9 Actresses We'd Love To See In The Charlie's Angels Reboot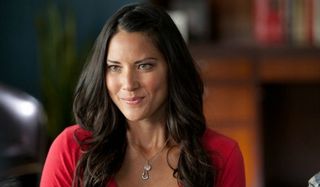 Undercover agents have been all the rage this year on the silver screen, whether they have been men from U.N.C.L.E., Kingsmen, or a dude on an impossible mission. So, where are the ladies? This is the right time to bring back Charlie's Angels, and Pitch Perfect 2 director Elizabeth Banks may be the ideal candidate for the gig.
But who would Banks cast as the next generation of Angels? The last time we saw the ass-kicking ladies on screen, they were personified by Cameron Diaz, Lucy Liu and Drew Barrymore. Even though Barrymore recently confided plans for a potential third movie, this franchise reset likely would look for fresh faces to fill its titular trio. We went ahead and picked 9 beautiful and talented actresses who we think would have the chemistry, the comedic chops and the action background needed to play one of Charlie's Angels. Who did we miss? Let us know in the comments section, but these are our best choices:
Zoe Saldana
Based on both the original television show and the two McG movies, Charlie's three Angels need to have specific qualities if they are going to fly. They need to be attractive. They need to be resilient. They need to be intelligent. And they need to be funny. Saldana has ticked off all of those boxes in big-budget fare ranging from Guardians of the Galaxy and Star Trek to The Losers and Colombiana. Her Avatar commitments might keep her from signing on, but I think I'd rather see her in an Angels adventure then in more Pandora excursions.
Olivia Munn
Prior to Olivia Munn being cast as Psylocke in X-Men: Apocalypse, I'm not sure her name would have popped to mind for an action/comedy hybrid I'm assuming Charlie's Angels will be (especially if Elizabeth Banks directs, as is rumored). Her ninja training videos have changed my mind, though. Plus, Munn has the right sense of humor to make cheeky material like Angels palatable. A lot of this will depend on who she'd be able to play off of, but I think Munn would bring an attitude and a physicality that the new Angels series could build on.
Lea Seydoux
A little international flavor for these new Angels. Lea Seydoux is an alluring French actress who has turned heads in provocative movies like The Lobster, Inglourious Basterds and Blue if the Warmest Color. But she's no stranger to popcorn Hollywood fare, having appeared in Mission: Impossible – Ghost Protocol (where she battled with another lady on our wish list) and an upcoming James Bond thriller. That experience would prove invaluable if Sony and Banks wanted Seydoux to try her hand at being an Angel. Plus, we'd love to see a lighter side to this stunning actress… if there is one.
Rinko Kikuchi
Here's a potential silver lining to Guillermo del Toro's Pacific Rim 2 being shelved indefinitely. Rinko Kikuchi can now become one of Charlie's Angels! Those who caught the versatile actress in Pacific Rim know she can handle herself in fight sequences (look at her training photo above). Meanwhile, Rian Johnson tapped into her comedic talents in The Brothers Bloom. She'd be a welcome addition to a new Angels trilogy, which would introduce her to a wider global audience. Win win.
Paula Patton
Remember all of those things I said earlier? The qualities an Angel must possess? Looks. Intelligence. Humor. Paula Patton has all of this in spades. The one thing the actress has yet to add to her impressive resume, though, is a franchise. She has been a part of Tom Cruise's Mission: Impossible films – going toe-to-toe with Lea Seydoux in Ghost Protocol. But she deserves more, and Sony could do well to recruit her to a multi-picture contract for Charlie's before Marvel or Star Wars swoops down and finds the right role for her.
Megan Fox
Can someone rescue Megan Fox from shitty franchise Hell? It's not enough that the poor girl had to do multiple Transformers movies? We're now punishing her by sticking her in numerous Teenage Mutant Ninja Turtles adventures? Who is her agent?! Fox is beautiful, and often proves that she's in on the joke, not the butt of it. She absolutely can handle her own in action, and would bring that spunky Kate Jackson tone to a new Angels gathering. Also, working with a female director like Elizabeth Banks might help bring out a different side of Fox (and not the sensual side that male directors rush to highlight).
Jordana Brewster
When Furious 7 retired Paul Walker's character, Brian, it basically attached Jordana Brewster's character to his fate. I'd be stunned if Mia (Brewster) showed up in Fast 8, so the timing is perfect for Brewster to break free of her signature series and join a new one. Because she has been overshadowed by the larger than life action heroes of the Furious world, I'm not entirely sure if Brewster is funny enough, smart enough or skilled enough to contribute to a Charlie's Angels franchise. But I'm more than willing to find out.
Scarlett Johansson
Here's where we start to reach with our wish list, though not too far out of the realm of possibility. Remember, Drew Barrymore, Cameron Diaz and Lucy Liu were established stars when they appeared on screen in Charlie's Angels (though not as big as ScarJo). Still, if Johansson wanted to distance herself from Marvel and anchor a franchise of her own – while also supporting Grrrl Power femininity on the big screen – this could be the ideal series for her goals. We know she can kick ass. We know that she's funny. She'd be a dream candidate. Could Sony convince her to give it a try?
Jennifer Lawrence
Why not reach for the stars, right? Jennifer Lawrence has had two major franchises eating out of the palm of her Oscar-winning hand. But here's the thing. Both are drawing to a close (if the rumors that X-Men: Apocalypse Is her final turn as Mystique). We know that she entertained the thought of becoming a Ghostbuster for Paul Feig. And she needs a franchise that taps into her obvious sense of humor. Angels sums up everything that Jennifer Lawrence specializes in (though, in truth, she basically specializes in everything). Landing J-Law as an Angel immediately elevates this reboot to blockbuster status. If we wish hard enough, do we think it might come true?
This poll is no longer available.
Sean O'Connell is a journalist and CinemaBlend's Managing Editor. He's frequently found on Twitter at @Sean_OConnell. ReelBlend cohost. A movie junkie who's Infatuated with comic-book films. Helped get the Snyder Cut released, then wrote a book about it.
Your Daily Blend of Entertainment News
Thank you for signing up to CinemaBlend. You will receive a verification email shortly.
There was a problem. Please refresh the page and try again.