Aaron Eckhart Confirms Two-Face Won't Be In The Dark Knight Rises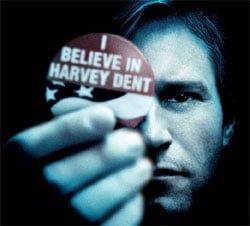 One of the big questions on the minds of fans after the end of The Dark Knight was whether or not Two-Face was really dead. Aaron Eckhart, who played the character, seemed as though even he was unsure of the villain's status, which left the door open for some sort of possible return in the next movie, Dark Knight Rises. But now, the door just shut.
Talking to MTV Eckhart revealed that he definitely will not be involved in the next Batman movie. He'd been wondering if there might be a place for Harvey Dent in The Dark Knight Rises script, and so he caught up with Christopher Nolan and simply asked him. Eckhart relays their conversation this way: "Chris, a lot of people are asking me if I'm in the next 'Batman.' And Chris said, 'Yes?' I said, 'Am I?' He looked at me and he said, 'No.'"
Apparently the whole exchange took place on a stormy beach, which seems like a wholly appropriate place to deliver bad news to a Batman villain. As for Eckhart he says, "I was heartbroken. But Chris has his reasons and my life must go on."
Your Daily Blend of Entertainment News
Thank you for signing up to CinemaBlend. You will receive a verification email shortly.
There was a problem. Please refresh the page and try again.