Adam Sandler Does A Re-Do For Funny People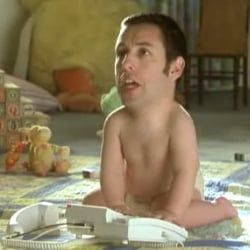 As we get closer to Funny People's July 31 release date, the movie's subtle and brilliant viral marketing campaign keeps expanding to let us know more about the characters at the center of the movie. Remember the Saturday morning TV show Yo Teach!, starring Mark Taylor Jackson as a rapping, Shakespeare-quoting teacher? Now check out a clip from Re-Do (via Funny or Die), in which George Simmons plays Craig, a workaholic 40-year-old who, thanks to a fateful stumble into a cave, is turned into a baby.
The clip, which also co-stars Justin Long, is a hilariously deadpan take on movies like Little Man and 17 Again. At one point Simmons (who, OK, is actually Adam Sandler) gets the priceless line "You know, it took me becoming a baby, to realize what it means to be a man. OK, get the Baby Bjorn. We're gonna go find that wizard!"
You really have to see it to believe it. I'm really looking forward to seeing what else comes out of this campaign as Funny People gets closer to being release.
George Simmons in "Re-Do" from Justin Long
Your Daily Blend of Entertainment News
Staff Writer at CinemaBlend