Adam Sandler May Co-Star With Will Ferrell In Three Mississippi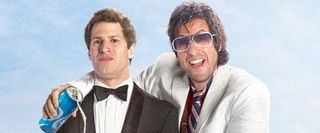 There's been some major change-ups to Will Ferrell's upcoming sports-comedy Three Mississippi, which have forced the producers to scramble for a new director as well as new co-star for the Anchorman funnyman. Last year Ferrell's good friend and frequent collaborator Adam McKaywas lined up to helm, but with the unlikely revival of Anchorman 2, he has since been sidelined to prepare a sequel no one truly expected to come to pass. Warner Bros has since signed Sean Anders, who is helmed the upcoming Adam Sandler vehicle That's My Boy, and Vulture reports Sandler himself is in talks to be Ferrell's onscreen rival, a role that was initially conceived for Ferrell's The Other Guys co-star Mark Wahlberg.
Unfortunately, Wahlberg has had to bail on Three Mississippi due to scheduling conflicts that arose because of Battleship. 'What?,' you're probably wonder, 'How does that follow?' Bear with me; this is tricky. See, not long before critics declared Battleship a bomb, Universal began to expect as much and so pre-emptively pulled financing on Battleship helmer Peter Berg's follow-up feature Lone Survivor. This left that film's producers desperate to secure independent financing—which they did once Wahlberg agreed to make Lone Survivor his very next effort.
This means that between Anchorman 2, which is shooting in January of 2013, and Lone Survivor, filling out Wahlberg's 2012 schedule, Three Mississippi would have had to wait about a year to lens. Ferrell, who is also a producer on the project, doesn't want to reschedule the Warner Bros-approved autumn start date for its production, and so is searching for a new co-star.
Of course, Sandler instead of Wahlberg makes this an entirely different movie. The comedy centers on the rivalry that arises between two neighbors whose families annually compete in a traditional turkey bowl game. Originally, Wahlberg was slated to play the poor fool who always lost to Ferrell and his—presumably obnoxious—family. The idea was actually born from McKay and producing partner Owen Burke wanting to see more of the kind of pissing contest banter that Wahlberg shared with Alec Baldwin in The Departed, and Baldwin was actually attached to play Wahlberg's probably ball-busting father. At this time, there's no word on if Baldwin will factor into the new shooting schedule.
Frankly, these personnel changes make Three Mississippi less appealing to me. Admittedly, I haven't seen Anders' work, but the trailers for That's My Boy are not encouraging; they're mostly loud. While McKay and Ferrell have had a pretty solid collaborative track record that includes such popular comedies as Talladega Nights and Step Brothers. Beyond that, the dynamic between Sandler and Ferrell doesn't suggest the same kind of conflict you'd get with Wahlberg's gruff persona involved. Sure Three Mississippi will still be funny, but it's now much less likely to be excellent.
Staff writer at CinemaBlend.
Your Daily Blend of Entertainment News
Thank you for signing up to CinemaBlend. You will receive a verification email shortly.
There was a problem. Please refresh the page and try again.