Adam West Cameo In Dark Knight Rises?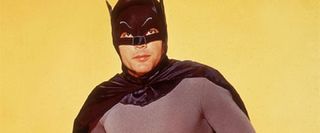 It's been awhile since we've had a completely bonkers Dark Knight Rises rumor. There hasn't been any need for them, since the studio has now actually confirmed the cast. But here we go again. This time the big rumor is that Adam West is joining the movie's cast.
The rumor originated with Floss Magazine, where they offer nothing beyond a vague proclamation to back up their findings. So the story here is I guess that some magazine says Adam West will have a cameo in Chris Nolan's next Batman movie. Stranger things have happened. Believe it or not?
I'm going with "not" here, because casting Adam West in your movie would be a gimmick and Christopher Nolan isn't prone to gimmicks. For fans over the age of fifty this addition might be kind of fun, he was the original TV Batman after all, but how many in The Dark Knight Rises audience are old enough to care? Definitely not enough to justify a gimmicky stunt casting.
There's also Adam West's age to consider. He's 83-years-old and perhaps not getting around as well as he used to. Most of his appearances in recent years have been confined to voice work on Family Guy, though he does occasionally show up in the odd Funny or Die web video.
We'll let you know if this rumor gets confirmed, but don't count on it. So far Chris Nolan has shown no inclination towards this type of gimmickry, this isn't a Marvel movie and Adam West isn't Stan Lee.
Your Daily Blend of Entertainment News