The Aggressive Way Donald Sutherland Got Himself Cast In The Hunger Games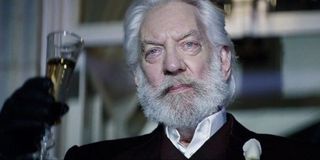 Perhaps it's partially due to the horror work he has done during his career, but Donald Sutherland has always had an intimidating presence about him. While he's clearly an amicable and good-natured soul, you can tell that if he really wanted something he would be able to get. As it turns out, this is exactly the story of how Canadian acting legend wound up with his part in The Hunger Games films - even though he originally didn't have any real knowledge of the source material.
During a discussion with the November issue of GQ Donald Sutherland admitted that after reading the script for The Hunger Games, he knew that he simply had to play the part of President Snow, and aggressively pursued the part even though nobody was actually asking him about it. This was despite the fact that he wasn't even aware of Suzanne Collins' immensely popular novels, and the fact that the draft he read only provided the character with a few lines. Said Sutherland,
Enlightening stuff from the M*A*S*H, Ordinary People and Don't Look Now star. In addition to being a nice demonstration of his personal passion, it's also a rather decadent and nostalgic way to get a role. I can just imagine him using a quill pen and ink-bottle to write his letter by candlelight before he attached it to a bird that flew off and delivered it to the studio. But any budding actors out there who are planning on emulating Donald Sutherland's unique ploy to get a part probably shouldn't. Because the real reason he got the role wasn't because of the letter. It was because he was Donald Sutherland. I bet Gary Ross couldn't believe his luck when it finally arrived at his door.
Clearly Suzanne Collins, Gary Ross and Billy Ray's screenplay for 2012's The Hunger Games struck a chord with all of actors that came across it. The series boasts one of the finest ensemble casts in recent years, with prestigious young talent like Jennifer Lawrence, Josh Hutcherson and Liam Hemsworth mixed in with fantastic veterans like Sutherland, Stanley Tucci, Elizabeth Banks, Woody Harrelson and Philip Seymour Hoffman. And each of them have been integral in papering over the cracks of the uneven franchise. The Hunger Games: Mockingjay Part 1 looks likes it could finally be worth its salt though, and the fact that Donald Sutherland's President Snow is heavily involved in the plot is probably one of the reasons why.
Your Daily Blend of Entertainment News