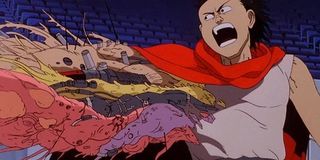 We all thought it was dead. We dreamed of stepping on its throat, and having it let out it's dying breath. And when it came true, we took to the hills and celebrated. We fired weapons. We kissed our loved ones just a little harder, wetter, better. We swam in the oceans and lakes, danced to the loudest beats and stood over its grave and relieved ourselves. The Akira remake was dead.
Or is it?
Jaume Collet-Serra was the last filmmaker involved in Warner Bros.' ill-advised in-development live-action adaptation of Katsuhiro Otomo's acclaimed manga and anime film. Warner Bros. had constantly been tamping down their ambitions, claiming it would be a trilogy, then two films, then one mega-budgeted one - the budget of which kept slipping. Even as Collett-Serra talked the budget down to $90 million ($10 million more than Grown Ups 2 cost), the studio persisted on a version that would only cost $60-$70 million. Afterwards, everything went quiet, likely because everyone realized they had no Josh Tranks around who could deliver that sort of spectacle on a discount price. But no. Collet-Serra persists, and speaking to Collider to promote his new movie Non-Stop, he reveals that the project is still his baby.
"I've done two movies since I put this little pause on that project," he tells them, "but now powers that be are interested." Those two movies were the upcoming Non-Stop and Run All Night, both reuniting him with his Unknown lead Liam Neeson. Making a couple of in-house hits for a studio is a good way to endear them to you, and Collet-Serra has stayed with the WB his whole career, with a brief diversion overseas to make Goal 2: Living The Dream. It's entirely possible the WB is waiting on these Neeson actioners before committing to Collet-Serra: his Unknown was a forgettable Neeson vehicle that nonetheless grossed $131 million worldwide. And his earlier horror chops on House Of Wax and the adorably bonkers and stupid Orphan don't really suggests he's ready for big budget sci-fi. But crazier things have happened.
Of course, crazier things should NOT happen. The American Akira should stay dead and buried. The original film, which only takes chunks of the manga, is already jam-packed with disquieting and disturbing ideas and imagery that can barely be contained by the two hour runtime. The live-action version would also need to be an R-rated film, because films that "shoot" for a certain rating are usually neutered from the word go, even if the MPAA can be fairly lax when it comes to body horror - and you're gonna have to horrify if you want Akira to land with any force. Also, hello? You can't DO an American Akira because an American Akira DOESN'T MAKE SENSE. It is called AKIRA. It is not called Billy or Bob or Thornton. It's distinctly Japanese, dealing with the complex feelings of Japanese society in the decades following Hiroshima. Making it American and having it echo 9/11 is not only incredibly obvious, but extremely tacky, essentially equating man-made disasters with each other and disrespecting both.
There's also the cultural appropriation going on regarding what is already an awesome anime and comic. Why do we need an American Akira? Is there something more that can be said about Akira that needs an American eye? And is there something to the fact that the WB's Akira, in its original incarnation, was dead-set on whitewashing the cast, but weirdly not blackwashing or Hispanicwashing, or whatever you'd call it, with names like Garret Hedlund, Gary Oldman and Kristen Stewart among the basically all-white collection of names being linked to roles? Whatever the case, it sounds like the success of Collet-Serra's next movies will make or break his Akira at WB. Vote with your dollars.
Your Daily Blend of Entertainment News