Alanis Morissette Is A Fan Of Dick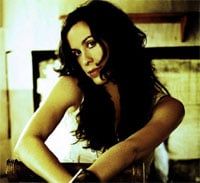 I've always had this thing for Alanis Morissette. It's not that she's necessarily all that pretty, or that I think her music is that great (though come on she's crazy talented), she's just always seemed like one of those really cool chicks; the type you'd want to marry and spend the rest of your life trying to save the whales with… even if you hate whales and love carving tie tacks out of whale bone and even though you probably wouldn't have to because she's cool enough to simply let you be you. But you wouldn't be you, you'd rather be her vision of you, so for her you'd give up the endangered species arts and crafts. As a bonus, if you ever screw up and dump her, she'll write a song about how much you suck. Who wouldn't want that? I would.
HR says she's trying to launch some sort of film career, but since she's Alanis she's picked something worth doing instead of something that people will actually see. She's joined the cast of Radio Free Aftermath, a semi-biographical movie about famed and fascinating science fiction author Philip K. Dick. The film incorporates the crazy visions of what's going on in Dick's head along with the reality of what's happening around him, so Alanis will be in a sense playing two roles. She shows up as a glamorous singer named Sylvia in one of Dick's visions of a record executive. Meanwhile in the real world Sylvia's an ordinary secretary in remission from lymphoma.
Morissette's not just in the movie, she claims to actually have read a book. Rare among musicians, but true. She says, "I am a big fan of Philip K. Dick's poetic and expansively imaginative books… I feel blessed to portray Sylvia, and to be part of this story being told in film."
Radio Free Aftermath is based on a Dick book published posthumously. The script is written by John Alan Simon, who's also directing. It's actually one of several Philip K. Dick biopics in the works, but with Alanis on board this one is now the best. I'm probably biased.
Your Daily Blend of Entertainment News