Alec Baldwin Is A Bachelor's Professor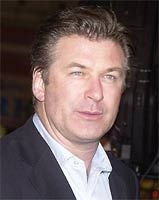 Alec Baldwin is moving forward with his acting career again after the real life events that plagued his image earlier this year. The actor wasn't expected to take on any more projects before returning for a second season of "30 Rock" but he has signed on for Bachelor No. 2 at Lionsgate.
The picture stars Dane Cook as a horrible date – imagine that. His character is hired to be a lousy date for girls so that they'll return to relationships they just dumped. However, the character comes into conflict when his best friend asks for his help with the girl who dumped him, played by Kate Hudson.
While this has nothing to do with a jaded Goth curse, the plot sounds awfully similar to Good Luck Chuck, which features Cook as a cursed man whose dates find true love with someone else after sleeping with Chuck (Cook).
Baldwin will play the role of Professor Thompson in Bachelor No. 2. What exactly that role is isn't made clear in the Hollywood Reporter article announcing Baldwin's casting. The name is the only thing mentioned. Rest assured he's probably some sort of professor, or has one of the most unfortunate first names for someone outside of the educational career field.
The movie starts filming in Boston before the end of the month under the watchful eye of director Howard Deutch (The Replacements).
Your Daily Blend of Entertainment News