Alec Baldwin Talks Dirty To Meryl Streep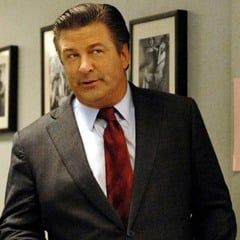 Alec Baldwin: romantic leading man? Just two years ago it might have seemed like a joke, but after getting his mojo back with his amazing role on 30 Rock, Baldwin seems capable of anything these days. And you know who else seems recently capable of strutting her stuff and flirting like there's no tomorrow? Meryl Streep, who jumped and giggled her way through Mamma Mia! this summer. Now the two of them will pair up to prove that your most seductive years may always be ahead of you.
Nancy Meyers, according to Variety, is looking to cast Baldwin alongside Streep in an untitled romantic comedy about a woman caught in a romantic triangle. It probably sounds awfully familiar to fans of Meyers' 2005 movie Something's Gotta Give, which starred another older actress (Diane Keaton) with a handful of gentlemen callers. So If Meryl Streep is the Diane Keaton equivalent, and Alec Baldwin is the Jack Nicholson equivalent, the general rule of improving things with the sequel means the Keanu Reeves role will be played by... Shia LaBeouf!
Nancy Meyers is one of very, very few female Hollywood directors who has made a ton of money by consistently making movies that appeal to women-- and, more often than not, older women. That demographic is hot right now thanks to the female-driven success of Sex and the City and Mamma Mia!, and since Meyers' movies are better than either of those, she's almost guaranteed to have success with this next one. Those of you who have gotten a kick out of watching Baldwin seduce Maureen Dowd and Condoleeza Rice over the phone on 30 Rock --your moment has come.
Staff Writer at CinemaBlend
Your Daily Blend of Entertainment News
Thank you for signing up to CinemaBlend. You will receive a verification email shortly.
There was a problem. Please refresh the page and try again.