Alice Eve Bailed On X-Men: First Class Because She Didn't Like The Script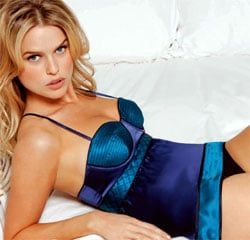 Earlier this year we told you here that bombshell actress Alice Eve was in talks to play Emma Frost in Matthew Vaughn's upcoming X-Men: First Class. But in yesterday's flurry of First Class casting announcements, Eve's name was nowhere to be found. Instead Emma Frost will be played by January Jones. Did Vaughn change his mind and decide to go with someone else? Nope. Alice Eve wanted out.
Comic Book Movie says Eve petitioned to be let out of her contract by Fox after changes to the script left her unhappy with the direction of the project. Don't assume that means the script sucks, that's one explanation, but it could also simply be that Emma Frost's role was somehow reduced. Alice is hardly a household name, but she's an up and comer. Maybe they feel she's too hot to settle for a glorified cameo. Or maybe the script is just really terrible. Place your bets.
That doesn't leave Eve out of the superhero game entirely. Word is that Marvel may want to find a way to use the She's Out of My League star for The Avengers in a minor role as a villain. Of course if she's willing to take a minor part in The Avengers you have to think she's be willing to take on just about anything in First Class, which leads you back to the worrying notion that the script is actually just terrible. Either way, getting Alice Eve in spandex is probably a good decision.
Your Daily Blend of Entertainment News