Alicia Vikander Was Nominated For The Wrong Role At The Oscars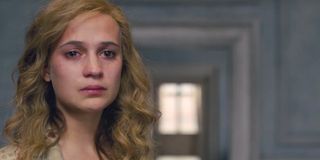 It's Oscar season, baby! This year the Academy of Motion Picture Arts and Sciences had an unenviable task of distilling all of the amazing cinema from 2015 down into a select few choices in a select few categories. Some of their selections are spot on, but others having us scratching our heads. One such selection is that of Alicia Vikander, who has just received a nomination for her role as Gerda Wegener in The Danish Girl. While she most certainly deserves an Oscar nomination, the one she deserves is for a different film entirely(in my humble opinion) .
Anyone who has seen Alex Garland's phenomenal 2015 sci-fi film Ex Machina can start to see where I am going with this. As Ava – a machine struggling to learn how to convincingly act like a human – Vikander proved herself absolutely transcendent. Simultaneously beautiful and haunting, her performance extended not only to the words she uttered and the inflection in her voice, but also the entire physicality of her being. Every single second she spends on screen entirely convinces us that she's not human, but also draws us in and attracts us to her – in every sense of the word. Check out a clip from Ex Machina below to get a better understanding of what I mean:
Note the way she moves as well as the way she talks. It all seems so natural, graceful, and innate while simultaneously being mathematical and artificial. Ava seduces the audience – by virtue of seducing Caleb (Domhnall Gleeson) – with her effortless allure, but at the same time maintains an odd, unnerving, and quite frankly calculated sense of menace that's just as hard to ignore.
What makes this all the more perplexing is the fact that Alicia Vikander has already received high praise and recognition for her role as Ava. Only this past week, she found herself in the running at the Golden Globes for her roles in Ex Machina and The Danish Girl. For her to make it to the Oscars based on only one of those performances seems downright criminal.
Before anyone begins to complain about my particular point of view on the matter, I want to clear one thing up. By saying that Vikander should have been nominated for Ex Machina, am I saying that she didn't do a phenomenal job in The Danish Girl? Of course not. We – like just about everybody else – found her absolutely radiant in her portrayal of Gerda, feeling that she even outshined Eddie Redmayne at times. The role she plays in her husband's gender transition throughout that film is not only essential, but beautiful. All I am trying to say is that if the Academy wants to recognize her for one piece of work from 2015, then it has to be Ex Machina.
What do you all think? Should Alicia Vikander have been recognized by the Academy for her portrayal of Ava, or did they make the right call by nominating her for The Danish Girl? Regardless of any of these awards ceremonies, she has proven herself time and time again to be one of the most reliable new actresses on the scene, and we quite frankly cannot wait to see what else her career has in store.
Your Daily Blend of Entertainment News
Originally from Connecticut, Conner grew up in San Diego and graduated from Chapman University in 2014. He now lives in Los Angeles working in and around the entertainment industry and can mostly be found binging horror movies and chugging coffee.