All The Boys Love Mandy Lane Sets Release, 7 Years After Its Festival Premiere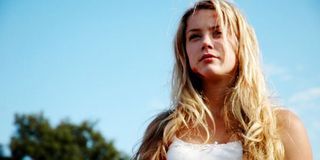 As long as I've worked at Cinema Blend-- actually, even longer than that-- Jonathan Levine's All The Boys Love Mandy Lane has been like a totem, a wisp of an idea of a film that a few people in the know would whisper about, largely as laments. To follow its sordid past requires encountering a company that no longer exists--Senator Entertainment--reading dozens of disappointed "It was going to happen, but now it's not" news stories, and going back to a time in which Levine was an upstart newcomer, not the director of bona fide hit Warm Bodies and critically beloved 50/50.
Mandy Lane premiered at the 2006-- 2006!!!-- Toronto Film Festival in the Midnight Madness Section, and went on to play at several other festivals and snag distribution from the Weinstein Company from their Dimension labels, a.k.a. the house that brought you the Scream franchise. It seemed like a perfect fit, until Grindhouse flopped, the Weinsteins balked and Senator Entertainment scooped up the rights…only to go bankrupt. The film sat in purgatory for years while Levine went on to a successful career and star Amber Heard grew up big time, and earlier this year the Weinstein Company announced that they had come back to rescue the film they had doomed to begin with, reacquiring the rights and scheduling a release for this year.
Lest you think this is just another bait and switch, the date has finally been set. Mandy Lane will premiere first on VOD on September 6-- the Weinstein Company has done well in that format through their Radius-TWC outfit-- and then finally arrive in theaters on October 11, a full seven years after its Toronto premiere. That was back during the George W. Bush administration. That was back before most of this year's upcoming second-graders were born. That was before we had ever seen a feature directed by Sarah Polley, Neill Blomkamp, Joseph Kosinski or Duncan Jones. That was a billion years ago.
So if you want to experience a blast from the past this fall, and catch up with a movie that people have been talking about for over a decade, the time for All The Boys Love Mandy Lane has finally come. Unless, of course, disaster strikes and it gets delayed again. I'm not saying it'll happen… but given the long road to getting here, we probably ought to be prepared for it anyway.
Staff Writer at CinemaBlend
Your Daily Blend of Entertainment News
Thank you for signing up to CinemaBlend. You will receive a verification email shortly.
There was a problem. Please refresh the page and try again.