Allison Janney Is Going Southern For The Help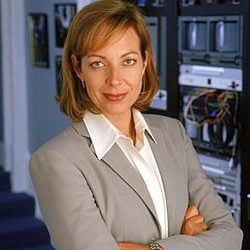 The Help will finally start shooting later this summer in Mississippi, which means I can finally stop wringing my hands over how director Tate Taylor plans to adapt his friend Kathryn Stockett's book and simply wait to see the results. You may remember I've been closely following the casting process, cheering when Viola Davis signed on and scratching my head when three redheads were cast as the central young white female roles. Now, at least, Taylor has thrown me a bone by making a casting decision pretty much no one can argue with.
According to EW, Allison Janney has signed on to play the small but pivotal role of Charlotte Phelan, mother of the main character "Skeeter" who will be played by Emma Stone. Skeeter is a young woman learning to test the boundaries of her restrictive upper-class life in 1960s Mississippi, while Charlotte, coming from another era, worries mainly about her daughter getting married to a suitable man and about keeping the status quo.
Janney thrilled a bunch of Lost fans when she showed up unexpectedly as Jacob's mother near the end of the final season, but it's really been since Juno that she had a good, meaty, mainstream role. For all my worries that The Help might not live up to the book it's based on, having Janney on board is nothing but a step in the right direction. ,
Your Daily Blend of Entertainment News
Staff Writer at CinemaBlend