Amanda Seyfried Set To Sing More Abba For Mamma Mia 2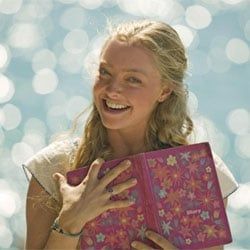 Unless you're of a certain age and gender, or unless you're British, you may not have noticed that Mamma Mia! was one of the biggest movies of 2008. I know, I don't get it either. But it was so big they're planning a sequel and over the weekend star Amanda Seyfried talked to the BBC about their plans for Mamma Mia 2.
There seems to be some confusion among the movie's cast as to exactly what songs they'll be singing in the next film. Last month Colin Firth said here that they'd be picking a new band to provide the sequel's lyrics but Seyfried insists, "I know it's still going to be Abba music, because what else would it be. Come on, I wouldn't do Mamma Mia 2 without Benny and Bjorn."
Here's the thing. Amanda may not know what she's talking about. Right before she made her grand proclamation about what sort of music she was willing to dance to she said, "I've been talking to some insiders and it's not something that they haven't been working on. I don't actually know anything other than that." More than likely then she's just speculating which she may regret when she later discovers that they will do Mamma Mia 2 without Benny and Bjorn. Somehow I doubt she'll back out.
In fact it sounds like she's already committed to doing the sequel and she seems to think Meryl Streep is in for Mamma Mia 2 as well. Says Seyfried, "I will do it. And I know Meryl's game as well, so bring it on. It will be so cool." Maybe it will be cool, as long as they keep Pierce Brosnan off the set.
Your Daily Blend of Entertainment News