The Amazing Spider-Man Trailer Reveals Viral Campaign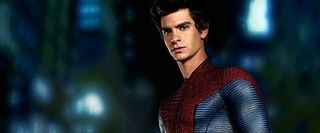 Over the last few days, fans of The Amazing Spider-Man have been hit by a lot of exciting new releases for the upcoming superhero reboot from Sony. From these previously unseen character images appearing on the film's official website to the brand new trailer hitting the web at midnight, it has been a pretty awesome period for those wanting to follow the wall-crawler's every move. And those few who follow The Amazing Spider-Man really closely - like frame by frame closely - made a viral discovery as well.
Collider went through the second trailer for the web-slinger reboot with a fine tooth comb and discovered a link to another website hidden in the video. During the trailers closing titles, on the inside of one of the silver bands in the graphic, the url MarkOfTheSpider-Man.com appears for a second. Actually far less than a second, which makes the find all the more impressive. I guess it's now a general rule that when a highly anticipated film releases content, we need to put on our deerstalker caps, grab our magnifying glasses and search for any hidden clues.
When you follow the link to the new website, which plays host to the new viral campaign, you won't find much happening at the moment except for six static filled screens. Perhaps the next step is there waiting to be discovered and decoded? Or perhaps we have to wait a while for the next development to present itself? Either way, the viral campaign for Spider-Man is underway at MarkOfTheSpider-Man and with the film's release ever approaching (under six months!), one would assume the viral web will unravel sooner rather than later. Try your hand at finding the next piece of the puzzle (and let us know what you find).
The Amazing Spider-Man stars Andrew Garfield, Emma Stone, Rhys Ifans, Martin Sheen, Sally Field, Denis Leary, Campbell Scott and Irrfan Khan. It is directed by Marc (500) Days of Summer Webb and arrives in theaters on July 3rd.