Amy Adams And Emily Blunt Clean Up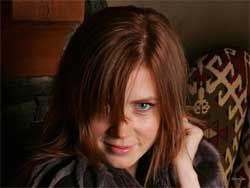 Amy Adams, who made me absolutely fall in love with her during that table crawling seduction scene in Talladega Nights, has lined up a new project. Production Weekly says both she and Devil Wears Prada bit player Emily Blunt are joining the cast of Sunshine Cleaning.
So what is it? Apparently it's the character study of a woman who goes into business with her unreliable sister in order to earn enough money to send her daughter to private school. What's their trade? Biohazard removal and crime scene cleanup. Gruesome doesn't begin to describe it. Don't expect any sexy tigress scenes from Amy in this one.
No word on which actress will play which part. Emily Blunt is good at playing flighty, and Amy Adams is usually cast as the responsible type, so odds are Amy's the mother and Emily is the crazy sister.
Shooting on Sunshine Cleaning will start early next year, leaving Amy Adams time to finish filming on the Underdog movie where she's playing Sweet Polly Purebread.
Your Daily Blend of Entertainment News