Ang Lee Considering Directing Angelina Jolie's Cleopatra Movie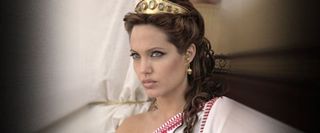 Ang Lee is very likely to get his third Best Director Oscar nomination tomorrow, and Life of Pi will probably scoop up a Best Picture nomination as well-- a nice comeback for the director who last made the little-seen comedy Taking Woodstock. And now that Lee is mulling his next project, he seems to be leaning toward making another project that's huge and high-profile, and that has lost several even huger directors along the way.
Producer Scott Rudin has been shepherding a Cleopatra since 2006, and the likes of David Fincher, James Cameron and Paul Greengrass have all considered it before departing. Now Lee tells The Hollywood Reporter that "I'm about to read the script," and that after all the other films he's done, "It just feels right." Lee continues, "What does it have in common with any of them? They're all totally different! That's what makes this perfect."
Lee's right that his filmography is hugely varied, and he's probably feeling pretty good after the giant creative risk of LIfe of Pi paid off so well. With Jolie still attached to Cleopatra it should have no problem getting made as soon as a director commits, and Lee's recent buzz could probably make him just the director to do it. Can he finally help Cleopatra get off the ground and put Jolie in the role she was born for?
Your Daily Blend of Entertainment News
Staff Writer at CinemaBlend