Ang Lee's Next Film Is A 3D Drama About Boxing History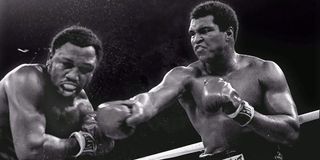 Have we lost another great director to 3D experimentation? James Cameron seems to really only be making Avatar sequels so he can play with the 3D cameras he invented, and now Ang Lee is riding his Life of Pi success to another 3D effort, which seems to be less about the storytelling than the effects. Deadline reports that Lee's follow-up to his recent Oscar winner will be a look at the world of boxing in the 1960s and 70s, the era that included the famous "Thrilla in Manila" bout between Muhammad Ali and Joe Frazier, along with the "Rumble in the Jungle" between Ali and George Foreman.
Before we get too concerned that the film will just be a bunch of disconnected boxing reenactments, Deadline says Peter Morgan is on board to write the script; the guy's credit like The Queen and the upcoming racing drama Rush prove he doesn't just know how to string a story, but how to craft one around true events. Deadline wasn't able to get too many specific about the story, but it sounds like it might be something similar to Michael Mann's Ali but with a focus on several of the major boxers of the era. Though boxing has now been eclipsed by MMA as a beloved sport about people beating the snot out of each other, the heroes from the boxing glory days remain large in the imaginations of filmmakers. Lee Daniels' The Butler star David Oyelowo agreed to star in a biopic about Sugar Ray Robinson, while the upcoming Grudge Match seem to be trading entirely on the legacies of Jake LaMotta and Rocky-- or, more specifically, Robert DeNiro and Sylvester Stallone, the men who played them.
Ang Lee has proved himself over and over again to be a master genre-hopper, and fresh off his second Best Director Oscar win he's clearly got the option to do whatever he wants, which means there's something in this boxing history that intrigues him. But forgive me for not seeing the appeal quite yet. Sure, scenes of boxing in big, beautiful 3D could rival Scorsese's Raging Bull scenes for beauty, and the intensity of boxing couldn't possibly be expressed in a better format. But when the entire point of a film is the visuals and the technology that made it, the story can become a toss-off-- just look at Avatar. I love that movie still, but Ang Lee has always been more of a storyteller than Cameron, and-- I thought-- less of a futurist obsessed with the next big technology. I worry he's been sucked in by the 3D bauble and will never return. Then again, the last time an Oscar-winning director took an unexpected dive into 3D, it was Martin Scorsese's Hugo. Ang Lee deserves at least that much trust.
Your Daily Blend of Entertainment News
Staff Writer at CinemaBlend