Angelina Jolie In Thomas Crown 2?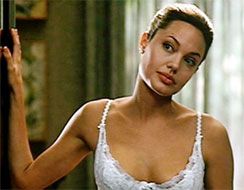 Want to see Lara Croft teamed up with James Bond? Then get ready for the sequel to the Thomas Crown Affair, The Topkapi Affair.
Moviehole is reporting that Angelina Jolie has been offered the female part in Pierce Brosnan powered, spy movie sequel. Rene Russo was the female lead in the first one, and while she's a nice actress bringing in Jolie would be quite a significant upgrade.
The script for The Topkapi Affair is based on a 1964 Peter Ustinov film called Topkapi. Ustinov's version was a caper movie about a small-time con-man mixed up with world class jewel thieves and Turkish intelligence. How that will be changed and adapted to fit Brosnan's Thomas Crown character is anyone's guess at this point. If they've got Angelina Jolie though, expect the female part in the film to be significant. Of course just because they've offered it doesn't mean she'll take it, but I'd love to see Brosnan and Jolie paired up on screen.
Your Daily Blend of Entertainment News