The Animorphs Are Getting Their Own Movie Because Nostalgia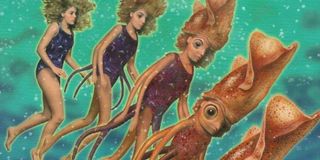 Film adaptations of young adult book genres have become increasingly profitable over the years. From Harry Potter to the more recent Hunger Games franchise, the genre has proven time and time again to be a solid cash cow. Despite this, one iconic '90s book series has yet to make it to the silver screen – until now.
According to The Tracking Board, Universal has plans to adapt the popular Scholastic Animorphs series, written by K.A. Applegate, into a movie. Animorphs chronicles the adventures of five teenagers caught in the war between two alien species: the Andalite and the Yeerks – parasitic, slug-like life forms who control humans by entering their ear canal. When they stumble upon the ship of a dying Andalite warrior, he grants them the ability to morph into any animal they come into contact with, and recruits them into the battle.
While many recent young adult series center on dystopian futures, Animorphs could set itself apart for a variety of reasons. First – and perhaps most importantly – Animorphs takes place in a contemporary American setting, rather than a distant time. The characters in the series are fighting to preserve a way of life that audiences can quickly recognize and identify with. Despite the fantastical nature of elements incorporated in the Animorphs books, many of the adventures the characters go on take place in schools and suburbs.
This sense of familiarity is assisted by the ensemble nature of the central cast. Similar to Power Rangers, while the Animorphs' had a leader (Jake Berenson), the series paid equal attention to each member of the team, each of whom came from different gender and cultural background. By not having a central character – like Katniss Everdeen or Harry Potter – the series sets itself apart and primes itself for success. Finally, as the Yeerks eventually begin to view the Animorphs as an Andalite guerilla force – like a sci-fi Red Dawn – the series always maintained a consistent focus on tension and stealth missions rather than overt, bombastic actions sequences.
The Animorphs series was incredibly popular during the time of their publication, producing 54 separate novels – each teen taking turns narrating different books – as well as a television series that ran for two seasons on Nickelodeon. With Sony's upcoming adaptation of the Goosebumps franchise, this could indicate that '90s culture is making a serious cinematic comeback.
Universal has had an amazing year between Straight Outta Compton, Furious 7, and Jurassic World, so expectations will be high for this long awaited adaptation. Animorphs is highly regarded as a piece of '90's culture, so to see it finally brought to the big screen will certainly be a treat for adults who grew up with them.
Your Daily Blend of Entertainment News
Originally from Connecticut, Conner grew up in San Diego and graduated from Chapman University in 2014. He now lives in Los Angeles working in and around the entertainment industry and can mostly be found binging horror movies and chugging coffee.