Anna Faris Learns Not To Be Pretty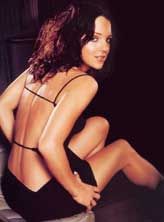 Somehow, maybe while most of us were busy watching better movies, Anna Farris carved out a niche for herself as comedy powerhouse. Want a funny babe to play the lead in your movie? With Alison Hannigan busy on TV, she's now the comedic actress default.
She's defaulting into another film soon. Variety says Paramount has bought a fish-out-of-water comedy from the writers of Legally Blonde (the good one), Karen McCullah Lutz and Kirsten Smith. It's being produced by Happy Madison, which means Rob Schneider has a shot and landing a cameo, and Anna Faris comes along with it to take a starring role.
The movie has no title yet, but it's the story of a centerfold with no real world skills forced to find a career away from being ridiculously good looking. The idea for it came from Faris, but let's be honest, just about anyone could have come up with this one.
Still, it's enough to earn Anna an Executive Producer credit on the flick… whatever it ends up being called.
Your Daily Blend of Entertainment News