Will Annabelle And Chucky Join Forces In This Insane Plot?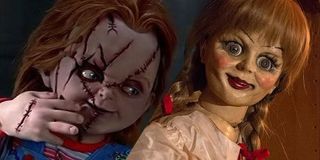 The creepy doll thriller Annabelle killed it at the box office this weekend with a $37.2 million opening that nearly edged out the hotly anticipated Gone Girl from David Fincher. With numbers this good, you might suspect Warner Bros. is already planning a sequel for The Conjuring prequel. Well, one master in murderous doll movies is pitching a prequel-sequel-crossover.
Don Mancini, who has written Child's Play 1-6, wants his Chucky to unite with Annabelle for an all-star killer doll movie. He told USA Today:
Mancini went on to say he'd be willing to write a role for the demonic porcelain doll in his seventh Child's Play movie, which is currently being scripted. But he admits there are some obstacles, namely that Annabelle is the property of Warner Bros and Universal has laid claim to Chucky. "But if it all could be worked out," Mancini offers, "Then yes, we're very into it."
But what kind of plot would bring Chucky and Annabelle together? Mancini wouldn't weigh in on who would win should the two dolls fight, but he suggests maybe they meet and an attraction spurs a murderous vengeance in The Bride of Chucky. "If I were Annabelle, I'd be watching my back," Mancini adds.
However, people who actually saw Annabelle this weekend know just how unlikely Mancini's pitch is. Aside from the fact that Warner Bros has nothing to gain tying their successful Conjuring franchise in with Child's Play -- which has gone from the big screens, straight to DVD -- Annabelle isn't like Chucky, as Mancini seems to believe. Mancini probably hasn't seen Annabelle. "From the trailer, Annabelle is playing her fighting cards close to her chest," he says. "From what I see, her fighting style is very subtle. I want to know if she has some secret moves."
SPOILERS FOR ANNABELLE!
She doesn't.
Annabelle does not spring to life like Chucky and chase down her pray. So every part of Mancini's pitch is ludicrous. That is even if he is able to loop in a meeting with Annabelle director John Leonetti, based on the helmer's ties to Child's Play. (He was the cinematographer on 1991's Child's Play 3.) But it's cool. Mancini has plenty of time to catch up on how Annabelle works and how he might weave her in to his horror franchise that refuses to die. As he himself said, this killer doll combo need not happen right away. "I can see that (even) in 20 years from now."
In the meantime, might I suggest a different combo-franchise?
Annabelle is now in theaters.
Your Daily Blend of Entertainment News
Staff writer at CinemaBlend.