Another Earth To Hit Blu-Ray In November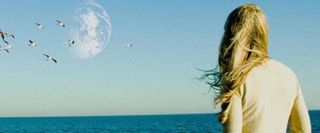 Another Earth takes the standard dramatic incident story and gives it a twist. On the night a mirror-image Earth is discovered, two people develop a relationship based on untruths but also on hope. If you haven't heard of it, it's probably because Mike Cahill's directorial debut was only given a limited release. For example, I would have had to travel 82 miles to see it in a theater near me, and some audiences probably would have had to travel farther.
Which is why home releases are so awesome. Twentieth Century Fox is streeting Another Earth as a Blu-Ray combo pack on November 29. On the unfortunate side, Another Earth is making a wide presumption purchasers will all own Blu-Ray players. Hopefully the film will also be available On Demand or as a movie download, but until that information is ascertained, we can only keep our fingers crossed.
On the positive side, especially for an indie film, Another Earth should be a pretty nice set. The disc offers deleted scenes and two tracks from the band Fall On Your Sword, as well as a video of Fall On Your Sword's "The First Time I Saw Jupiter." A "Making of" featurette will also be included, which is cool since it is always interesting to see how special effects are accomplished on a more limited budget. "The Science of Another Earth" and three Fox Movie Channel interview bonus features will round out the extras.
I'm assuming Another Earth has earned all of this extra attention because it was the winner of the Special Jury Prize & Alfred P. Sloan Film Prize at the Sundance Film Festival. For certain fans the Blu-Ray combo should make a great addition to any collection. However, I will again reiterate my hopes for an On Demand or digital download release. Another Earth is the sort of movie that just won't be available in most stores. Pre-ordering and online ordering work just fine, but if a film has gained notoriety and hasn't been widely available, it's always nice to give fans who have been waiting months to see a title a release option that will give them immediate gratification.
Another Earth will be available for pre-order on November 2.
Your Daily Blend of Entertainment News
Thank you for signing up to CinemaBlend. You will receive a verification email shortly.
There was a problem. Please refresh the page and try again.