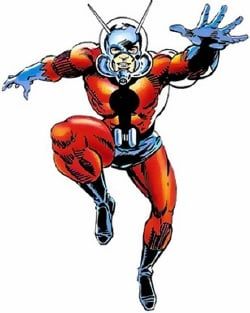 I must admit that prior to reading this story I had never heard of Ant-Man. The character is in the Marvel universe and I was a hard core DC guy growing up. I know… that means I'm an idiot, but I was all about Batman, the Flash, Green Arrow and the rest. I've heard of Hulk, Thor, Iron Man and most of the Marvel biggies, but Ant-Man? If you're hipper than I am, you'll already know that Hank Pym was the first Ant-Man and could shrink himself down to small sizes and communicate with insects.
It's possible that Ant-Man will join his Marvel bretheren on the big screen in the near future. As Rafe noted way back in 2006, Hot Fuzz director Edgar Wright is planning a big screen comedy/action telling of the Ant-Man story, whatever that may be. Wright told Empire Online that an Ant-Man script is all done, but don't start looking for the teaser trailer just yet.
Wright says that while a script is finished, Ant-Man isn't the only film on his dance card. He said, "it depends which comes first in the queue basically. I've been working on two at once, and I'm also about to start developing two more scripts, one of which is with Simon [Pegg]. It could be Scott Pilgrim is next or it could be Ant-Man, we shall see." That doesn't seem to be particularly encouraging as far as the timing goes. Still, I liked Hot Fuzz and I like the idea of a comedy director taking on the superhero genre. The earliest we can expect to see a Wright directed Ant-Man is 2009.
Your Daily Blend of Entertainment News
Thank you for signing up to CinemaBlend. You will receive a verification email shortly.
There was a problem. Please refresh the page and try again.