Ant-Man Seeking A Young Michael Douglas Lookalike For Flashback Sequences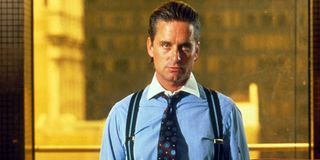 When Ant-Man cast Michael Douglas, the assumption was that the 69-year old actor was being used not only to represent the face of the current onscreen Marvel universe, but also its past. Unfortunately, Douglas is just too old to play a younger version of himself at this point, which means Marvel is going to need a ringer for Douglas for flashback sequences.
Backstage , a site dedicated to casting calls, reports that Ant-Man is on the lookout for an actor that can play a 30-45 year old Douglas, specifically in the era "circa Wall Street, Basic Instinct and Fatal Attraction." If this were a brief blink-and-miss-it bit, they could find a way to digitally alter Douglas' appearance to make him seem younger. But the fact that they're casting on Backstage and promising only "some pay" (classic Marvel!) suggests it's not entirely a minor part. Finding a Douglas lookalike is going to be difficult. The key, of course, is to nail that luxurious hair. Here he is circa Ridley Scott's Black Rain. Check out that glorious mane.
Of course, this is assuming Douglas is looking his old recognizable self in Ant-Man. Maybe the former Gordon Gekko is trying something a bit more radical with his appearance.
Currently shooting in Atlanta, Ant-Man has been a lightning rod of controversy over the last few months, even while Disney has been doing their best to make sure it looks like everyone's still being professional. The question is, how does a young Douglas, as his character Dr. Hank Pym, figure into the storyline of an aging scientist and the thief (Paul Rudd) who steals his technology to become a superhero? Mu guess is that Pym is a longtime S.H.I.E.L.D. employee, giving a chance for the now-dissolved organization to make another appearance.
Rumors persisted that Edgar Wright left due to rewrites that promised several changes to his core story. One of them suggested that the ties between Ant-Man and the rest of the Marvel universe were becoming too elaborate. Could the young Pym factor into this? In the comics, Pym invented Ultron, the robot providing menace in Avengers: Age Of Ultron . Is it possible questions about Ultron's origins are answered not in the coming Avengers 2, but instead Ant-Man proper? And could these questions be answered by a character played by a bit actor on "some pay?" Ant-Man hits theaters July 17th, 2015.
Your Daily Blend of Entertainment News
Thank you for signing up to CinemaBlend. You will receive a verification email shortly.
There was a problem. Please refresh the page and try again.