Anthony Mackie, Kevin Zegers And Christopher Egan Up For Mission: Impossible 4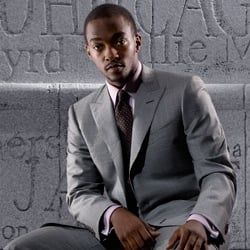 There's been reason to believe for years now that Tom Cruise might not be up to the task of making Mission: Impossible 4 work all on his own, but this summer's underperforming Knight & Day pretty much sealed the deal: they were going to bring in new blood. Just as Shia LaBeouf did the heavy lifting in Indiana Jones and the Kingdom of the Crystal Skull so Harrison Ford wouldn't risk throwing out his back (and look how well that turned out), Ethan Hunt will be teamed up with a young whippersnapper this time, presumably one who isn't a member of a cult and doesn't creep you out every time he smiles.
Now Deadline reports that Paramount is narrowing down their contenders for the young lead, and testing opposite Cruise this THursday and Friday will be Anthony Mackie, Kevin Zegers and Christopher Egan. You doubtlessly recognize Mackie as Sanborn from The Hurt Locker, and he's also got a plum role in the upcoming The Adjustment Bureau as well as an excellent performance in Tanya Hamilton's indie Night Catches Us, which is set for release later this year. Zegers, who looks a fair amount like Cruise himself, has popped up all over the place lately, from a run on Gossip Girl to an upcoming role as Clyde in The Story of Bonnie and Clyde, co-starring Hillary Duff (we'll just leave that one alone for now). Egan's first big staring role came on the short-lived TV series Kings, but he also sparred with Amanda Seyfried in Letters to Juliet earlier this summer, and has seemed poised for stardom for a while now.
Mackie is a solid five years older than the rest of his competition, but I feel like I shouldn't even have to argue why he's the best choice here. Not only was he phenomenal handling tense action in The Hurt Locker, not only is he an experienced actor with stage experience to boot, but let's face it-- we're way, way overdue for a black action hero who isn't Will Smith. Not only would the role in M:I 4 give exposure to a great actor who deserves it, but it could go toward changing the lily white face of mainstream action movies. Mackie has the power to steal scenes from Tom Cruise all while knocking down a few barriers too. How much more obvious a choice could you ask for?
Of course, it all depends on how well the actors test with Cruise, and it's entirely possible Mackie and Cruise will clash while the star will get along just great with Egan. Plus, for all we know, Shia LaBeouf could swoop in at the last minute and steal the role for himself. But I've made my case-- Anthony Mackie for Mission: Impossible 4, and anything else you've got while you're at it. If you want more proof, watch this video of Mackie with Jeremy Renner on The Today Show the morning Renner found out he was nominated for Best Actor for The Hurt Locker. Look at that bear hug! Tom Cruise, isn't that the kind of co-star support you're looking for?
Visit msnbc.com for breaking news, world news, and news about the economy
Your Daily Blend of Entertainment News
Staff Writer at CinemaBlend