Apparently Batman v Superman Isn't Directly Based On What We Thought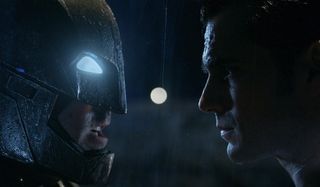 We've all been thinking that Zack Snyder's Batman v Superman: Dawn of Justice was based on Frank Miller's classic graphic novel The Dark Knight Returns. It features a similar face-off between the Caped Crusader and the Man of Steel, it sees Batman don a similar mech-suit to battle Superman, and the visuals look similar to the comic's brooding edge. Miller himself even consulted with Snyder on the film. But, as it turns out, we were wrong.
Batman co-creator Bob Kane posthumously received a star on the Hollywood Walk of Fame, and Snyder came out for the ceremony. During this time, he spoke with Comic Book Resources about his upcoming superhero pic and the Miller influence. He clarified,
So, if Frank Miller's comic isn't the main source material for Batman v Superman, what is? Let's look at what we've seen so far from the trailers…
Taking place in the aftermath of Man of Steel, the film sees the world divided on how to handle Superman. Is he their savior or an alien invader with the power to wipe out humanity? If you ask Bruce Wayne, it's the latter, which is why he sets out to best his might. However, this is a smoke screen — and, based on Snyder's statements, seemingly in more ways than one. Lex Luthor, envisioned as a young, Zuckerbergian entrepreneur, has his own devious plans. We know he has the deceased body of General Zod in his possession, as well as Superman's ultimate weakness, kryptonite. We also see Batman fighting an army of soldiers wearing black suits and sporting Superman's emblem. We still have a few months before Batman v Superman hits theaters on March 25, 2016, but we still haven't seen any official looks at the characters played by actors Callan Mulvey, Scoot McNairy and Jena Malone.
Then there's also the latter half of the film's title to consider. Dawn of Justice points to this film being a precursor to the two-part Justice League coming down the road. As such, we'll be seeing our first looks at Gal Gadot's Wonder Woman, Jason Momoa's Aquaman, and reportedly Ray Fisher's Cyborg and Ezra Miller's The Flash. We know that these characters don't appear in the film for too long, but we've seen the Amazonian warrior fighting some unknown but strong figure on a fiery battlefield.
With all these moving parts, it's difficult to hone in on one comic book at the root of all this. Batman v Superman already seems to be taking the Winter Soldier approach, in that it seems to suggest one storyline, but another, more jaw-dropping one is waiting to reveal itself.
Your Daily Blend of Entertainment News
Thank you for signing up to CinemaBlend. You will receive a verification email shortly.
There was a problem. Please refresh the page and try again.