Apparently The New Wonder Woman Was Going To Have A Tiger Sidekick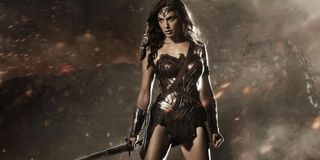 With the recent news that Wonder Woman, starring Gal Gadot, has seen its director, Michelle MacLaren, step down over "creative differences," it seems that the project has yet to craft a cohesive vision behind the scenes. Specifics regarding the friction between director and studio remain a mystery, but minor details were reportedly revealed. Most notably, it seems that in MacLaren's version of the story, Wonder Woman was going to lasso evil alongside a pet tiger sidekick.
According to a report from Badass Digest, the "creative differences" cited in Michelle MacLaren's exit from Wonder Woman may very well have been an understatement. Her vision for the film clashed with Warner Bros.' in just about every conceivable way, including even the very time period in which the film was to take place. The report also briefly touches on the presence of a "tiger sidekick/pet she could talk with" in MacLaren's version. While that's the extent of the details in the report, it claims that her "particular visions for the film" would have "alienated fandom."
While (as far as we know), there is no particular narrative in either the comic book or live-action mythos depicting Wonder Woman with a tiger, it would have been an intriguing new aspect to the upcoming reimagining of the iconic heroine. While it may have been an unprecedented angle that sounds a bit wacky, it is actually consistent with the powers Wonder Woman has displayed over the years. Notably, she has been depicted as possessing psychic abilities, which, in later versions of the comic book continuity, took the form of the power known as "Eyes of the Hunter," which granted her the ability to communicate with beasts.
What has been made clear, besides the controversy over her body, is that aesthetically, Gal Gadot's portrayal of Wonder Woman has a more rugged, utilitarian look to her costume. (Temporary as it may be.) While we only have one official image from which to draw conclusions, she does emanate some serious intensity that is more in line with her character being a hardcore Amazonian princess bestowed with powers from the gods than previous incarnations. Having her followed around by a tiger could have been an interesting way to reflect her wild nature as she presumably attempts to adjust to life under an unassuming secret identity in American civilization.
It's difficult to discern if the "tiger angle" was something that illuminated MacLaren's broader vision for the film. As it happens, the template for Gal Gadot's Wonder Woman will not be set by the prospective new director of the 2017 Wonder Woman film, but by director Zack Snyder when Gadot debuts the character in next year's Batman v Superman: Dawn of Justice. Thus, the creative differences that saw MacLaren leave the film may be over deeper things than just a tiger.
In the meantime, you can catch the debut of Gal Gadot's Wonder Woman in Batman v Superman: Dawn of Justice on March 25, 2016. Thus far, the Wonder Woman solo movie is still slated for June 23, 2017.
Your Daily Blend of Entertainment News
Your Daily Blend of Entertainment News
Thank you for signing up to CinemaBlend. You will receive a verification email shortly.
There was a problem. Please refresh the page and try again.