Assassin's Creed Star Michael Fassbender Has Never Played The Game On Which It's Based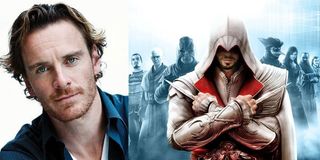 Michael Fassbender is currently winning praise for his riveting performance as a malicious slave owner in Steve McQueen's 12 Years a Slave. But as he does press for the picture, he has shared some surprising news about an upcoming project with Ubisoft. The video game company has been moving into feature films with a movie adaptation of their popular game series Assassin's Creed, which Fassbender is set to front and help produce. But if you're thinking the captivating leading man signed on to this project because of his love of the game, you'd be wrong.
Asked for an update on the project's development, Fassbender confessed to The Daily Beast:
The concept of Assassin's Creed centers on a long line of assassin's whose shared bloodline allows descendants to access the memories of their predecessors with the help of a device called Animus. When Ubisoft first considered adapting the game to a movie, they sent out surveys to their gamers asking which Assassin's Creed protagonist they'd like to see a movie focus on, fifteenth century Italian noble Ezio Auditore da Firenze or Desmond Miles, a modern-day American bartender who long ago fled his life as an assassin, only to be sucked in again. Apparently, they picked Miles, as that is who Fassbender is said to play.
Fassbender signed on to headline Assassin's Creed back in the summer of 2012. But it wasn't until January of this year that a writer had been found to translate the time traveling-centric video game into an action adventure script that Ubisoft hopes will prove a solid foundation on which to build their film empire. Also in the works at Ubisoft Entertainment are a movie for Tom Clancy's Ghost Recon that Michael Bay has the option to helm, and Tom Clancy's Splinter Cell, which has Tom Hardy attached to star.
While fans of the popular Assassin's Creed franchise are likely shaking their head at Fassbender's ignorance of the game, it's not terribly unusual that an actor knows little to nothing about the movie's source material. We hear that again and again whether it's a movie based on a popular book or on remake of a well-known feature. Still, as a producer on the picture you'd think he'd want some insight into what the players appreciate about the game. Of course with Assassin's Creed slated to hit theaters on May 22, 2015, Fassbender has got some time to do his research, and by that I mean play copious amounts of Assassin's Creed. First, he'll need to get one of those pesky video game players.
This poll is no longer available.
Staff writer at CinemaBlend.
Your Daily Blend of Entertainment News
Thank you for signing up to CinemaBlend. You will receive a verification email shortly.
There was a problem. Please refresh the page and try again.