Ubisoft Considering Assassin's Creed And Rainbow Six Movies?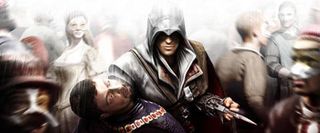 Video game publisher Ubisoft seems to be testing the waters for movies based on some of their top gaming franchises. They've sent out a survey to gamers gauging their opinions on film adaptations of Assassin's Creed and Rainbow Six.
The survey starts out innocently enough, asking how often you watch movies, who your favorite actors/directors are, and what genres you prefer. Then it asks your opinion on video game films. The survey provides a list of AAA games - including some non-Ubisoft titles like Grand Theft Auto IV and Gears of War 3 - and asks how interested you'd be in movies based on them.
After you've slogged through all that, the interesting part begins. The survey asks whether you'd be interested in Assassin's Creed or Rainbow Six films and what you'd want these films to do. For example, would you want an Assassin's Creed film to focus on Ezio or Desmond? Would you want an R6 film to "bridge the gap between 2 game releases" or tell an entirely new story?
Ubisoft's desire to expand their licenses into film is well-known by now. Back in 2009, they produced a series of short films entitled Assassin's Creed: Lineage that served as a prequel to Assassin's Creed II. They created a development studio in Toronto specifically to "build on the city's existing experience with the film production industry." Back in 2005 there was even a previous failed attempt to actually turn Rainbow Six into a movie. This survey is the first indication since, though, that Ubisoft might be testing the waters again.
Based off a series of novels from Tom Clancy, the Rainbow Six games deal with an international counter-terrorism unit. In 2008, Ubisoft purchased all intellectual property rights to the Tom Clancy name for use in games and ancillary products like books and films. That crap couldn't have been cheap so you'd expect them to at least try to make a movie, especially considering the sort of money previous Clancy film adaptations have brought in.
Assassin's Creed is an original franchise developed by Ubisoft. The games focus on a shadowy order of righteous hitmen assassinating the corrupt and powerful throughout history. It's a premise with a lot of meat on it, to be sure. Can it avoid the voodoo hex that seems to afflict every video game movie, though?
Your Daily Blend of Entertainment News
Staff Writer at CinemaBlend.