Michael Fassbender's Assassin's Creed Movie Sets 2015 Release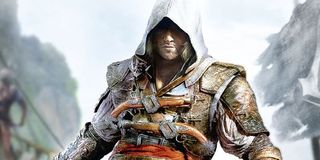 The history of video adaptations is long and almost completely ugly, with nightmares like Silent Hill and Max Payne and Street Fighter: The Legend of Chun Li vastly outweighing modest successes like Lara Croft: Tomb Raider and the Resident Evil franchise. But if anyone's gonna shake things up, it's Michael Fassbender, right?
The star of Shame and X-Men: First Class might not be who you'd expect to shake up the video game adaptation racket, but as the star of the upcoming Assassin's Creed adaptation, he might be the hero we deserve after all. Now we know when this attempted rescue effort will happen-- updates at Box Office Mojo reveal that Assassin's Creed has set a release date of May 22, 2015, meaning it will arrive just a few weeks after The Avengers 2.
In other updates, Ridley Scott's Exodus-- known otherwise as his Moses movie-- has set a release of December 12, 2014, likely confirming that it will be his next project after this year's The Counselor. And speaking of Oscar-friendly December releases, Jason Reitman's Labor Day, a novel adaptation starring Kate Winslet and Josh Brolin, has set a Christmas Day release. So much for capitalizing on the holiday in the title, but given that Labor Day is typically a dead zone for movie releases, I can't blame them.
And finally, a few more minor updates-- Vince Vaughn's comedy Delivery Man has been bumped back a little more than a month, now opening November 22 opposite The Hunger Games: Catching Fire (y'know, no pressure). And The Fifth Estate, the hugely exciting movie in which Benedict Cumberbatch plays Julian Assange, is now coming on October 11, fellow Oscar hopeful Captain Phillips and Spike Lee's mysterious remake of Oldboy.
Staff Writer at CinemaBlend
Your Daily Blend of Entertainment News
Thank you for signing up to CinemaBlend. You will receive a verification email shortly.
There was a problem. Please refresh the page and try again.