Avatar 2, 3, And 4 Finally Reveal Their Writers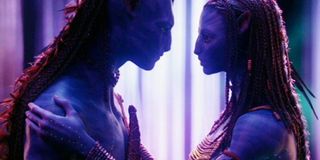 Avatar is coming back, and Fox is about to make sure that audiences are swallowed up by all the thrills Pandora has to offer. In 2009, $2.8 billion worth of people went on the journey with James Cameron, and with three sequels in development the director hopes that those same people will be down for another ride. The precise details of the upcoming movies remain a mystery, but at the very least we now know who is writing each installment.
The New York Times reports that amongst the Avatar sequel braintrust, each writer or writing team has been assigned to a specific film. Rick Jaffa and Amanda Silver, who wrote both Rise Of The Planet Of The Apes and the upcoming Dawn Of The Planet of The Apes, will be on-duty for Avatar 2; Josh Friedman, who wrote Steven Spielberg's War Of The Worlds, is in charge of Avatar 3; and Avatar 4 is in the hands of Shane Salerno, writer of Armageddon and Savages. It's also interesting to note that both Friedman and Salerno have experience with Cameron-orphaned properties, as Friedman served on the writer's staff for Terminator: The Sarah Connor Chronicles and Salerno penned Aliens Vs. Predator: Requiem. Much of the work on the Avatar screenplays was completed last year during a get-together at Manhattan Beach, California, and Salerno was even writing his film as he promoted his new documentary Salinger.
The new report goes into great detail about the making of the Avatar sequels, drawing comparisons between what's going on at Disney's Marvel Studios and what Warner Bros. is currently working on with their DC properties. Along with the screenwriters, Steven Gould (Jumper) is on the Avatar "staff," and has been hired as the novelist who will be penning a series of original novels that take place within the universe of Pandora and will complement the upcoming films.
The piece is not entirely uncritical of Fox's efforts to make Avatar the centerpiece of the studio's blockbuster slate. They would have liked to follow up the 2009 original film with a sequel quickly, though the confidence they showed in James Cameron to take his time resulted in the studio not having optimal release schedules, driving profits down as they've relied on franchises like Planet of The Apes and X-Men to grow. Last year, Fox was sixth in market shares amongst major studios, something an Avatar sequel could have drastically changed. Originally the studio thought Avatar 2 would have happened right now: an initial proposal had Avatar 2 shooting in 2011 for release in 2014. Instead, we will have to wait until December 2016 for the next adventure, and follow-ups in December 2017 and December 2018.
The new Avatar sequels will continue to follow the transformed Jake Sully and Neytiri (and whomever Sigourney Weaver plays), opening up a new cross-branding world for Fox that includes "various media, some of which have yet to be invented," the article optimistically states. Fox is betting big that Pandora and its neighboring worlds can be for them what Lucasfilms can be to Disney. James Cameron just made the two biggest movies of all-time. And now Fox wants him to top that.
Your Daily Blend of Entertainment News