James Cameron Will Spin Avatar Into A Cirque Du Soleil Spectacle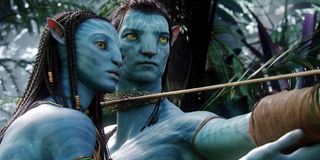 With Avatar, James Cameron redefined cinema and started a whole new craze for 3D. Now he's looking to take his otherworldly spectacle to the ring. The circus ring, that is.
Variety reports James Cameron is developing an Avatar-inspired stage show in conjunction with Cirque du Soleil, a Canadian circus troupe that combines elaborate acrobatic acts, dance, and feats of strength with outrageous costumes and fantastical narratives. The Avatar Cirque du Soleil live show will likely be the troupe's most commercial show yet, and is set to make its debut in late 2015, meaning it will play as prelude to Avatar 2, which is slated for December 2016.
In a statement, Cameron said this of the project:
You might think this mash-up sounds too weird to work. But I after years of hearing how extraordinary Cirque du Soleil's shtick is, I went to see their production Amaluna a few weeks back. Take it from me, this collaboration is inspired.
Essentially, Amaluna was the story of William Shakespeare's Tempest, following a young woman who lives on an island filled with magic and extraordinary creatures, with no boys to be found. But trouble and love wash onto shore along with a band of shipwrecked sailors, one of whom has eyes for her. Its story was incredibly simple, mostly conveyed by a clown's expositional lines, and then scene after scene of jaw-dropping stunts. For all its CGI regalia and fan love, Avatar's plot was likewise lean. So, it seems a great base for Cirque du Soleil's artists and athletes to build on.
To get some sense of what Cirque du Soleil is all about, check out this look at Amaluna.
You might be impressed by the stunts and gymnastics seen here, but watching a Youtube video really doesn't compare to seeing this live. After watching movies where outstanding stunts are constructed with the help of safety rigs, and bolstered by CGI backdrops, it's mind-blowing to see the things that Cirque du Soleil presents and realizing it's all real, right there in front of you. No safety nets. No second takes. It's a good thing there were no kids seated by me when I saw it, because I repeatedly exploded with explicit exclamations of disbelief. Which is all to say I'm expecting Avatar's Cirque du Soleil show to be even more mind-bogglingly astounding that the first film. But I wouldn't be surprised if there are plans to make a movie release of this spin-off stage show.
Bring on the blue bodysuits!
Your Daily Blend of Entertainment News
Staff writer at CinemaBlend.