Avengers 2: Age Of Ultron Hands Black Widow A Groundbreaking, Electric Harley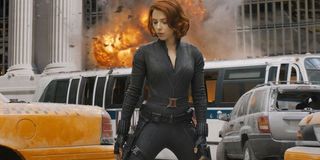 The Avengers are saving the world in more ways than one! As it turns out, super spy/master marksman Natasha "Black Widow" Romanoff is also an environment warrior, utilizing an electric motorcycle over old-school gas guzzlers for Joss Whedon's Avengers: Age of Ultron.
Superhero Hype reports Black Widow will saddle up in Harley Davidson's first-ever electric motorcycle, called Project LiveWire, in Avengers: Age of Ultron.
Rather than a Harley's typical roar, Project LiveWire offers a quiet electric purr when it's started. This sound will then build, but not to the expected growl of Harley Davidson's long line of gas-powered motorcycles. You can hear the new sound of Harley below around the 0:19 mark. It's downright sci-fi.
Harley Davidson's Chief Marketing Officer Mark-Hans Richer is quick to spin the loss of the growl long associated with machismo biker culture, telling the Associated Press, "This has never been about an electric car. For us, it's been more about an electric guitar: expressive, emotional, fun."
Harley's Lead Engineer Jeff Richlen offers another macho comparison, "If you hear it in a true passby, it will sound like…a fighter jet flying by."
Soup to nuts--or wheels to electronics--Project LiveWire is a wholly new machine. Though this marvel of modern tech will be making its big screen debut in Avengers: Age of Ultron, fans won't be able to purchase this bike for some time. For now, Harley is still road testing the product for the public, but it's expected Project LiveWire could be a big hit overseas in Europe and Asia where there is already a strong demand for electric bikes. Of course, seeing Black Widow ride one in what is expected to be one of the biggest movies of 2015 will only help Project LiveWire's appeal stateside.
You can see Project LiveWire in action on the set of Avengers: Age of Ultron below:
Avengers: Age of Ultron opens May 1st, 2015. You can check out Project LiveWire in person in New York this week. Learn more here.
Staff writer at CinemaBlend.
Your Daily Blend of Entertainment News
Thank you for signing up to CinemaBlend. You will receive a verification email shortly.
There was a problem. Please refresh the page and try again.