The Avengers Trailer Arrives Online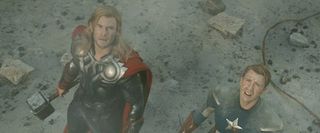 The Avengers trailer has arrived! While fans of Iron Man, Thor, and The Incredible Hulk, among others, still have to wait until May of next year to see what happens when the heroes join forces, this trailer offers two minutes of footage from the film.
Directed by Joss Whedon, The Avengers stars Robert Downey Jr., Clark Gregg, Scarlett Johansson, Chris Hemsworth, Chris Evans, Samuel L. Jackson, Jeremy Renner, and Mark Ruffalo and follows the joined adventures of some of Marvel Comics' most popular heroes. Much like the video featured on Entertainment Tonight yesterday, the trailer shows off plenty of action, explosions, excellent hero-shots, and if you were a fan of Robert Downey Jr.'s witty lines in the Iron Man films, it looks like there will be plenty of that to come when Tony Stark teams up with some of the other day-savers.
Here's the trailer below, or you can watch it in HD on Apple. You can also check out our gallery of high-res screenshots from the trailer here.
The Avengers hits theaters May 4, 2012. More information about the film can be found in our movie database.
Your Daily Blend of Entertainment News
Thank you for signing up to CinemaBlend. You will receive a verification email shortly.
There was a problem. Please refresh the page and try again.