Awards Blend: A Major Reshuffling At The Top Of The Charts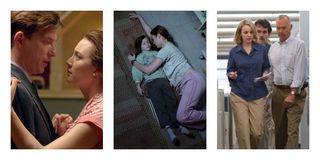 It's time to start trimming the fat. More Oscar contenders are starting to screen for analysts and audience members, meaning the annual awards race is shifting into focus. There's still plenty of time to debate the merits of the major players, but more and more minor players are falling by the wayside. The bloodletting is about to begin.
With this reshuffling comes a drastic rearrangement near the top of each chart. Certain movies have cemented their status as contenders, though "frontrunner" is a dangerous term (as Steve Jobs proved that claiming it can lead to a backfire). There are still a number of strong movies that need to screen between now and the end of the year. Something like The Revenant or The Hateful Eight could drop and completely change the landscape of the Oscar discussion. But fall film festival favorites like Room, Brooklyn and Spotlight continue to earn prestige points while working the circuit, while The Martian continues to be a force at the box office.
With that in mind, here's where I think the Oscar contenders sit on November 11:
For a while, I thought this was Danny Boyle's category to lose. At the very least, I thought he had the nomination locked up. He still should get in to the race, and he remains in the discussion, but the way that Steve Jobs has underperformed at the box office has to give everyone pause.
Last season, Best Actor was a ridiculously competitive category, with just as many worthy candidates left on the outside of the category looking in as there was five eventual nominees. This year looks equally impressive, though there are a number of films yet to drop. Is this the year that Leonardo DiCaprio finally wins? Or could Matt Damon's The Martian performance prove to be the spoiler?
More people need to see Carol. It's supposedly fantastic, with Rooney Mara and Cate Blanchett owning the drama. But right now, a limited number of awards pundits have been allowed to see the film (outside of its festival screenings), which has allowed Brie Larson and Saoirse Ronan to gain valuable momentum in the interim for Room and Brooklyn, respectively.
More audience members will start to see Spotlight in the coming weeks, as Tom McCarthy's gripping and airtight journalism drama opens in an increased number of theaters. Hopefully, from there, you all can help me figure out which of the male performers gives the better performance. I was blown away by the quiet fortitude Liev Schreiber brings to his role as the Boston Globe's new publisher. But he's equaled by Michael Keaton, Mark Ruffalo, Stanley Tucci, John Slattery… really, everyone is awesome. So, who makes the cut? We'll see, in the next few weeks.
Alicia Vikander long has been the frontrunner in this category, not just for her soul-baring work in The Danish Girl (which should earn her an Oscar win, not just a nomination), but in recognition of the exquisite year she had as a performer. I also finally caught Youth last week, though, and I understand why many believe Jane Fonda's scant bit of screentime will earn her a nod. It's a showy, vitriolic turn that drips with the resentment of an older actress – and a Hollywodo legend – leveling bitter (but accurate) criticisms at her industry. Biting the hand that has fed her for years? What better way to get Oscar's attention? I bet it works in her favor come nomination morning.
Movie junkie. Infatuated with comic-book films. ReelBlend cohost. Resident dad. Extroverted introvert. Wants to see the Snyder Cut. Managing Director at CinemaBlend.