Why Spotlight Might Be The New Best Picture Frontrunner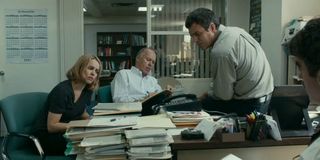 This. This is the movie I have been waiting for the 2015 Toronto International Film Festival to deliver. The opening weekend of this year's fest has been decent. But normally, by the time we reach Monday, at least one film (and in a good year, several more) has managed to kick me in the gut, rocket me into the stratosphere, or a combination of both. While I thoroughly enjoyed The Martian and found plenty to appreciate in Black Mass, Anomalisa and Trumbo, they didn't land with the same impact as Tom McCarthy's Spotlight. This one resonates. And it hurts.
Spotlight rips the Band-Aid off of some extremely difficult subject matter, but doesn't do it in a showy, tabloid-minded or headline-grabbing way. Set in 2001, the true story follows a small team of Boston Globe reporters, led by the even-tempered and respected Walter 'Robby' Robinson (Michael Keaton), as they investigate claims that Boston's Catholic diocese buried claims of sexual abuse filed against parish priests. Robinson's specialized team of bulldog reporters – operating under the name Spotlight, and consisting of such tremendous character actors as Mark Ruffalo, Rachel McAdams and Brian d'Arcy James – unearth a cover up, but they're hardly prepared to process how far up the chain of command the scandal goes… or how far the plague of deception and apathy actually spreads.
There are so many things that Spotlight does right, I hardly know where to begin. Let's start with the cast, which is exquisite from top to bottom. The magic of Spotlight is that everyone "acts" with a lowercase "a," understanding with every fiber of their being that there's no reason to steal focus away from the inherent power of the material. But every performance is crucial to the success of the movie. McAdams and Ruffalo are diligent and precise as vigilant beat reporters chasing down countless leads. There are scenes about fighting bureaucracy to get sealed court documents open for public record, and they re enthralling!
Michael Keaton and John Slattery, meanwhile, lend that necessary veteran presence as seasoned editors who know when a story is ready, and when it's in danger of being picked apart because it's too thin. (Spotlight also should be praised for absolutely nailing the ebbs and flows that come with being in a newsroom, particularly during the development of a potential landmark story.) And Liev Schreiber displays brilliant control over the vital role of Marty Baron – a newcomer to the Boston Globe whose distance from the Boston community (and it's generations-spanning associations with the Church) make him the only person capable of initiating an investigation that will trace all the way to Cardinal Bernard Francis Law, the Archbishop emeritus of Boston.
But McCarthy's cast is the tip of the iceberg. In truth, virtually everything that needs to click into place does so with refined precision. Every scene in McCarthy and Josh Singer's screenplay exists to move the investigation forward (or back, when there are consequences to the truths they are unearthing). Every word in the script matters. How often can you say that?
In Tom McCarthy's hands, the powerful Spotlight is a tense, crackling, meticulous, damaging and essential telling of a difficult, contemporary scandal in a major American city. But there's no triumph in its accomplishment, no vindications in its final reveals. All we get is an immense sadness over the realization of how many people looked the other way when these horrific crimes were being perpetrated against innocent children, and for how long the despicable practice was actually going on.
This review was filed at the 2015 Toronto International Film Festival.
Sean O'Connell is a journalist and CinemaBlend's Managing Editor. He's frequently found on Twitter at @Sean_OConnell. ReelBlend cohost. A movie junkie who's Infatuated with comic-book films. Helped get the Snyder Cut released, then wrote a book about it.
Your Daily Blend of Entertainment News
Thank you for signing up to CinemaBlend. You will receive a verification email shortly.
There was a problem. Please refresh the page and try again.