Awards Blend: The Revenant Screened, But Is It An Oscar Contender?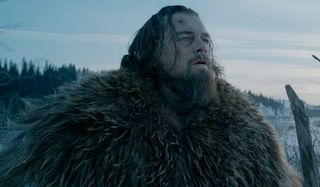 The last few blocks are starting to drop into place. The final unviewed awards contenders are starting to screen, giving Oscar analysts the full picture as 2015 draws to a close. And while The Hateful Eight and Joy remain mysteries, Alejandro Inarritu's The Revenant finally screened at The Academy on Monday night, and reactions flooded social media almost instantly. So, will this be an Oscar contender?
The almost-universal reaction to the movie is that it's a technical masterpiece. That much is to be expected. Inarritu is fresh off of Birdman, which attempted to tell its whole story in one unbroken shot (with a few cheats), and stories have been written about how his survival tale The Revenant braved difficult environmental conditions to shoot in natural light in every frame. But was it worth it? THR's awards pundit Scott Feinberg calls the movie "long," "gorgeous" and "gruesome." He concludes that it will get a Best Picture nomination, but isn't the frontrunner to win.
As for Leonardo DiCaprio, many have a vested interest in him finally winning his first Best Actor Oscar, and think The Revenant could be the performance that finally gets him over the hump. Vanity Fair goes on record, having seen the film, to say it's DiCaprio's race to lose. However, not everyone hopped on the bandwagon:
We'll know more as the film continues to screen. I finally see The Revenant, as well as Joy and Hateful Eight, right after Thanksgiving. For now, here's where I think the Oscar contenders sit on November 24:
The more I think about Spotlight, the more I realize it doesn't have an ounce of fat on it. It's airtight, and its precision – from the script to the performances – can be traced back to Tom McCarthy. I need to see it one more time, but he might be running away with this category. Can Quentin Tarantino or David O. Russell disrupt his flow?
The word on Leonardo DiCaprio in The Revenant is split. Some still say that it's his Oscar to lose, but the argument tends to be "well, it's his time." Doesn't that same point apply to Johnny Depp, though, who shed his Pirates quirks to give a masterful performance in Black Mass? It could be Depp's time, too, especially if Academy members are cool on what is being labeled as brutal sit in The Revenant. Time will tell.
More people need to see Carol. It's supposedly fantastic, with Rooney Mara and Cate Blanchett owning the drama. But right now, a limited number of awards pundits have been allowed to see the film (outside of its festival screenings), which has allowed Brie Larson and Saoirse Ronan to gain valuable momentum in the interim for Room and Brooklyn, respectively.
More audience members will start to see Spotlight in the coming weeks, as Tom McCarthy's gripping and airtight journalism drama opens in an increased number of theaters. Hopefully, from there, you all can help me figure out which of the male performers gives the better performance. I was blown away by the quiet fortitude Liev Schreiber brings to his role as the Boston Globe's new publisher. But he's equaled by Michael Keaton, Mark Ruffalo, Stanley Tucci, John Slattery… really, everyone is awesome. So, who makes the cut? We'll see, in the next few weeks.
Alicia Vikander long has been the frontrunner in this category, not just for her soul-baring work in The Danish Girl (which should earn her an Oscar win, not just a nomination), but in recognition of the exquisite year she had as a performer. I also finally caught Youth last week, though, and I understand why many believe Jane Fonda's scant bit of screentime will earn her a nod. It's a showy, vitriolic turn that drips with the resentment of an older actress – and a Hollywodo legend – leveling bitter (but accurate) criticisms at her industry. Biting the hand that has fed her for years? What better way to get Oscar's attention? I bet it works in her favor come nomination morning.
Movie junkie. Infatuated with comic-book films. ReelBlend cohost. Resident dad. Extroverted introvert. Wants to see the Snyder Cut. Managing Director at CinemaBlend.
Your Daily Blend of Entertainment News
Thank you for signing up to CinemaBlend. You will receive a verification email shortly.
There was a problem. Please refresh the page and try again.