Back To The Future Planning A Massive, Immersive 30th Anniversary Screening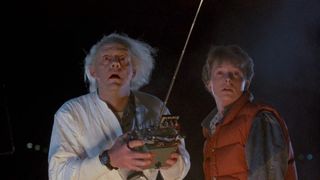 Fire up the DeLorean, because we're about to go back in time with Secret Cinema's just announced L.A. screening of Back to the Future!
The company has revealed plans to bring the popular event to Los Angeles just in time for the film's 30th anniversary next year. Previously, the film screened in London – where over 75,000 people attended (at a whopping price of $88.50 each), in order to watch Robert Zemeckis' beloved 1985 film in a fully recreated Hill Valley. THR reports that the showings in the UK were so successful that they not only made it the biggest live screening event of its kind, but also helped the film re-enter the UK top 10 almost three decades after is debut.
What makes the Secret Cinema screenings so magical is the company's penchant for finding unique ways to screen films that people absolutely adore. In the case of Back to the Future, they recreated the fictional California town that serves as the film's setting. To make viewers feel as though they were really in the movie's world, the new Hill Valley featured not only the school and clock tower made famous in Marty McFly's first big screen adventure, but also boasted 20 fully functional shops, and a cast of 74 extras that helped make the illusion a reality. Attendees gathered in the area, shopped and gawked, and then watched the film – screened with a projector onto the wall of the town hall. It sounds totally amazing. And it looks like this:
Secret Cinema lives up to their name by not revealing how many showings are scheduled for the L.A. run, nor where those events will take place exactly. This keeps with the company's penchant for being sneaky, as they've already announced a series of "Tell No One" events for here in America slated to start early next year. Those showings hope to lure in film fans by not revealing what the film being shown will be until people gather at the event.
As film fans, we love what Secret Cinema is doing and can't wait to see how they implement it here in the U.S. when they launch next year. The sheer number of films that they could show is enough to make your head spin. How awesome would it be to watch Jaws in a perfect recreation of Amity Island, right on the beach? What about a screening of George A. Romero's Dawn of the Dead in a shopping center made to resemble the Monroeville Square Mall circa 1978? The options are almost endless.
The $100 price tag certainly makes this an expensive night at the theater (although not much more than IMAX these days…), but it seems like a small price to pay to live in the world of our favorite films, if even only for an evening.
Your Daily Blend of Entertainment News