Bad Teacher Trailer: Cameron Diaz Wants Justin Timberlake For His Money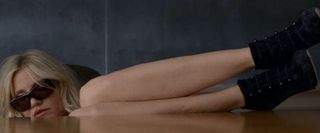 Justin Timberlake will be following up on his newfound credibility as a movie star twice this summer, once in the romantic comedy Friends With Benefits opposite Mila Kunis (another actor suddenly taken much more seriously now that she's in an Oscar-nominated film). But first up, on June 24, is Bad Teacher, that stars Timberlake's ex Cameron Diaz as a foulmouthed middle school teacher who suddenly decides to become good at her job in order to save up for a boob job.
It's telling that the very first trailer for the film to go online is red-band, and opens with Diaz saying over hamburgers, almost offhand, "Fuck my ass." It only gets dirtier and sillier from there, with Diaz deciding to woo the new substitute teacher played by Timberlake, smoking pot on school grounds, swearing at students and, for some reason, volunteering for a school car wash wearing clothes better suited to her character in the Charlie's Angels movies. There's a lot going on in the trailer, and it's hard to know if it'll all fit together in a coherent or actually funny movie. And there's a disappointing lack of Jason Segel, so it's hard to know if his role is really small or just hard to explain in a quick trailer. But with Jake Kasdan directing, his first film since the hilarious and terribly underrated Walk Hard, and The Office's Gene Stupnitsky and Lee Eisenberg writing, there's reason for a little bit of blind faith.
Check out the trailer below (after entering a valid birthdate-- sorry, kids!) and marvel at Diaz's dirty mouth and Timberlake's preppy look that somehow, like everything, looks good on him.
Staff Writer at CinemaBlend
Your Daily Blend of Entertainment News
Thank you for signing up to CinemaBlend. You will receive a verification email shortly.
There was a problem. Please refresh the page and try again.