The Bank Of Depp To Bail Nic Out Of His Cage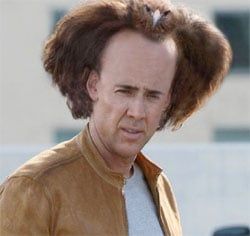 The Crippling Debt Express has rolled through the station and Nicolas Cage threw himself and his gigantic five-head right in front of it. The dude took a page out of the M.C. Hammer Celebrity Handbook, somehow spending all of his money and racking up a $6 million tax bill. Now he's stuck staring at his $276,000 dinosaur skull thinking, "'Because I'm Nic EFFING Cage' is NOT an excuse to buy dinosaur bones."
But thankfully in his youth, before he owned two Bahamian islands, multiple yachts, a Lamborghini, and even a pile of shrunken heads, Cage played nice with someone who would become one of Hollywood's most respected elite. According to the Daily Express-- which, it should be noted, is a notoriously unreliable British tabloid-- Johnny Depp, whom Cage introduced to his manager in the 80's, is coming in with his scissorhands to cut down Cage's financial problems, or at least trim them into much more fun shapes.
A friend of Cage's has said, "Johnny has never forgotten what Nic did for him," which essentially was hand him his first role in the original Nightmare on Elm Street, so Depp is looking to repay his debt if Cage will have it. Cage has been trimming away at the debt on his own by ditching houses in L.A., Vegas, and Rhode Island, but there's still money owed and that's where Johnny would like to help. Allegedly, of course. We're willing to count on a denial from Depp's camp any minute now.
Maybe it's just because I'm from a small town and have never had enough money to just buy every little thing I ever wanted, but spending to this magnitude of irresponsibility has always baffled me. Sure Cage is blaming his financial manager for "leading him down a path of financial ruin," but at some point you have to notice your countless millions disappearing, right? This will just be a bump on the road of his career however. He's still cranking movies out left and right and I'm sure will be back on his feet in no time.
Your Daily Blend of Entertainment News