Batman V Superman Trailer Finally Reveals Why Wonder Woman Joins The Fight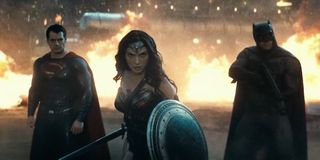 Despite the movie being named Batman v Superman: Dawn of Justice, it's been known for a while that Wonder Woman would play a key role. Although there was that photo of her with Bruce Wayne at a gala event and the scenes of her in battle during this summer's Comic-Con trailer, it's been a mystery exactly how she gets involved. Fortunately, thanks to the new trailer that debuted tonight, it's now clear what draws her into the 2016 blockbuster's conflict: Doomsday.
Yes, after over a year of rumors, this latest preview confirmed that the being who killed Superman on the printed page back in the '90s will be Batman v Superman: Dawn of Justice's heavy-hitting antagonist. Unlike in the comics, the DCEU's Doomsday is General Zod's corpse-turned-reanimated monstrosity thanks to Lex Luthor's twisted experiment. Origin changes aside, he's still a powerhouse, which means Superman and Batman won't be able to deal with him on their own. Luckily, Wonder Woman is also on the scene, and their reactions at her arrival are priceless, with both thinking the other brought her in. However she ended up on that battleground, her presence results in that cool shot (seen above) of DC's Trinity finally together in live action.
With Batman as the experienced crimefighting mortal and Superman as the powerful alien, Wonder Woman fills the magic/mythology area of the Trinity. Her shield was powerful enough to protect her from Doomsday's laser blasts (from both his eyes and mouth), and she's also wielding a sword, the Lasso of Truth and her infamous bulletproof bracelets. All that combined with her natural demigod abilities should prove useful in taking the beast down, especially given that Clark may be hesitant about taking another life again given what happened in Man of Steel.
What's still a mystery is why Diana of Themyscira is in Metropolis in the first place. We're not complaining that she's joined the fight, but battling laboratory monstrosities doesn't really fall under her line of work. One possibility could be connected to her 2017 solo movie. It was reported last month that the present day events in Wonder Woman may take place before Batman v Superman: Dawn of Justice, with her looking for the sword previously wielded by her enemy Ares. Perhaps while she's investigating the sword's whereabouts, she gets wind of what Luthor is up to. Obviously she's not going to get involved in Superman and Batman's violent disagreement, but once Luthor's creation goes rogue, she'll get involved and join forces with her two future Justice League teammates. This looks like it's the beginning of beautiful friendships.
Audiences will get to see DC Comics' three most famous heroes in action together when Batman v Superman: Dawn of Justice arrives in theaters on March 25, 2016.
Your Daily Blend of Entertainment News
Connoisseur of Marvel, DC, Star Wars, John Wick, MonsterVerse and Doctor Who lore. He's aware he looks like Harry Potter and Clark Kent.