Watch Superman Unmask The Batman In Moody Dawn Of Justice Footage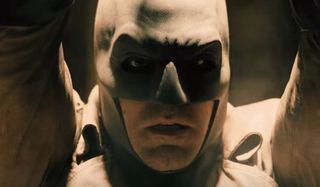 For the past year, Warner Bros has been keeping Batman v Superman: Dawn of Justice footage close to the chest. First there was the April teaser, and the only other preview for the first live action outing between the two heroes was this summer at San Diego Comic-Con. Fans have been eager for another look at the movie, and their wish was finally fulfilled tonight during the Gotham Season 2 midseason finale on Fox. Check it out the latest sneak peek at the 2016 blockbuster showing Batman and Superman in an uncomfortable situation.
Expanding on the desert commando Batman scenes from the last trailer, this new preview shows Bruce Wayne being held prisoner in an underground bunker. Getting a look at his surroundings (note how he can turn his head wearing that mask), he notices he's not the only prisoner chained in that room, with one man on either side of him. Suddenly, he's surprised by a falling Man of Steel. Yes, just as seen during the previous trailers, we have an angry-looking Superman with his own force of soldiers. Casually walking over to Batman, he unmasks Gotham City's Dark Knight, and needless to say Bruce isn't pleased with this. The preview cuts off before we see what happens next, but that look of contempt on Kal-El's face as he looks at the mask and back at his prisoner suggests there won't be a friendly conversation.
There's been a lot of speculation about the circumstances of these desert scenes in Batman v Superman: Dawn of Justice, which presumably take place far away from Gotham City and Metropolis. The Comic-Con trailer showed Batman in his desert gear infiltrating this base of operations and battling Superman's army. Considering Superman's firm moral code and his desire to protect the people of Earth, this moody and dictatorial persona for the Kryptonian is out of character, feeling more at home in stories like Superman: Red Son or Injustice: Gods Among Us.
The common belief is that this is some kind of dream sequence probably being imagined by Batman. We know that he considers Superman to be a threat that must be stopped, as does much of the world after the events of Man of Steel. Perhaps this sequence is Bruce imagining what would happen if Superman were to take control of Earth. Awakening from this nightmare, he realizes that drastic measures need to be taken, leading Bruce to create that bulky armor and take him on personally. Other possibilities could include mind control or that not even being the real Superman, but we'll learn the answer in due time.
Admittedly, there wasn't a lot to chew on here, but fortunately, we won't have to wait long to see more new footage. At the end of the sneak peek, it's noted that the next trailer will debut Wednesday, December 2 on Jimmy Kimmel Live! at 11:35 EST. As for the movie itself, Batman v Superman: Dawn of Justice hits theaters on March 25, 2016.
Connoisseur of Marvel, DC, Star Wars, John Wick, MonsterVerse and Doctor Who lore. He's aware he looks like Harry Potter and Clark Kent.
Your Daily Blend of Entertainment News
Thank you for signing up to CinemaBlend. You will receive a verification email shortly.
There was a problem. Please refresh the page and try again.