Batman v Superman's Wonder Woman Costume Described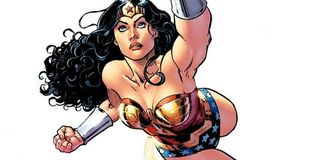 Batman v Superman: Dawn of Justice won't only be boasting its titular Justice League member, the one and only Wonder Woman will also make an appearance. And now a new report is outlining exactly how she'll appear in this much-anticipated superhero ensemble.
JoBlo declares an insider from Batman v Superman: Dawn of Justice has revealed several key details about Wonder Woman's look and involvement in the action adventure. While early rumors suggested Gal Gadot would be sporting the modern Wonder Woman look of jacket and leggings, the latest leak from set says that's all wrong. This Wonder Woman will be "traditional yet sleeker costume" that is described by JoBlo's source as "badass."
You can hear JoBlo's full report -- with details about Batman and Lex Luthor -- below:
Batman v Superman: Dawn of Justice's Wonder Woman will be "battle ready" in a blue leather skirt, silver bracers that extend to her elbows, her signature golden tiara (though the red star may not be included), and some form of her standard red bustier top. She is intended to be a true Amazon warrior princess, though the film is said to be ambiguous when it comes to her backstory. As to the warrior angle, Wonder Woman will carry a shield, which she'll wear on her back as Marvel's Captain America has been in his movies. She'll also brandish a sword and spear, as well as her trademark lasso.
A bummer to Wonder Woman fans, we won't see her in all her superheroine glory until Batman v Superman: Dawn of Justice's final act, according to the insider. Instead Gal Gadot will get most of her screentime as Wonder Woman's secret identity Diana Prince. In the film's climax, she'll team up with Superman and Batman to take on the film's big bad, which may be Lex Luther-affiliated.
As the movie is called Batman v Superman: Dawn of Justice, we shouldn't be surprised that Wonder Woman isn't promised a whole lot of screentime. To me, it sounds like the Iron Man 2 setup that introduced Black Widow, but with more forethought about how to utilize the character in sequels. Having said that, I'm hoping Diana is a more interesting and complex character than Natasha Romanoff (A.K.A. Natalie Rushman) was in Iron Man 2. Even with Scarlett Johansson, Natasha was a bore until The Avengers gave her more to do than be a shockingly standard femme fatale.
Aside from the limited Wonder Woman screentime, I'm intrigued by these rumors, particularly those involving her heavy arsenal. While Wonder Woman has long been an enigma to Hollywood screenwriters, it seems that focusing on her warrior abilities is a solid beginning. And by keeping her backstory vague, DC gives themselves some time not only to see how audiences respond to their big screen Wonder Woman, but also to figure out an origin that will work in a movie. That's a puzzle that's been too long confounding screenwriters.
Batman v Superman: Dawn of Justice opens May 6th, 2016.
Staff writer at CinemaBlend.
Your Daily Blend of Entertainment News
Thank you for signing up to CinemaBlend. You will receive a verification email shortly.
There was a problem. Please refresh the page and try again.