Beasts Of The Southern Wild Director Benh Zeitlin, Making Unforgettable Films On His Own Terms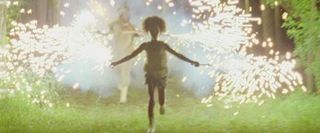 For a while there Benh Zeitlin seemed like the piped piper of New Orleans. One after another, someone else I went to college with would move down there for a few weeks or months, and you didn't even have to ask what they were doing there. They were just "working with Benh," either on the short film Glory At Sea or later on Beasts of the Southern Wild, the handcrafted coming-of-age story that premiered at Sundance in January and opens in theaters this week.
Benh graduated from Wesleyan University in 2004, two years before I did, and not to try and sound too cool, but we all knew how great he was before you did. His senior thesis film Egg was unlike anything else that anyone had made, striking and creepy and intricately detailed, an adaptation of Moby Dick featuring stop-motion animation and three human actors as "bird children" and a tragic finale (you can watch it here). He made it in 16mm when a lot of students had moved on to digital. He made it on a college campus with a college crew, and when it went on to win an award at the Slamdance Film Festival a few years later, no one even pretended to be surprised. No one made movies like Benh did, at Wesleyan or anywhere.
When I talked to Benh last week, near the tail end of what's been an epic press tour for Beasts of the Southern Wild, it was the first conversation we'd actually had-- I knew him from afar, of course, and he knew of me, but he was a talented senior when I was still a sophomore worried I'd make the grades to get into the film program. What I wanted to know from Benh more than anything about Beasts was how he'd gotten there so directly, how he went from a stellar thesis film to festival wins to building from scratch a cottage filmmaking industry in New Orleans, a city where people I knew had done relief work, but none had actually settled to live. With so many of my former classmates barely eking out livings on the fringes of the film industry, how had Benh taken it over at age 29, entirely on his own terms?
The answer is simple and a little cryptic, and came at the end of our conversation, when he talked about making plans to return to New Orleans and start work on another film, which he would again make with his Court 13 collaborators. "This is what I like to do," he said, talking about his plans to get back in there, saw cars in half and haul lumber and build elaborate sets, in a way you might not quite expect from a filmmaker currently riding a major indie success-to-be. But Benh has always followed that creative impulse toward elaborate, hands-on projects-- he told me that even in high school, a routine assignment would turn into some kind of massive film project. He wasn't making things the way everyone else did back then, and he seems to have no intention of changing.
As it turns out, Benh didn't wind up in New Orleans as some kind of altruistic impulse to a city in need, as I'd once suspected, but for much more regular reasons: he knew a bunch of people there. After Egg had made the festival rounds he was putting together his next short Glory At Sea, about a community living at the line between water and land, inspired by the Greek myth of Atlantis. At one point it looked financially feasible to make it in Greece, but when that fell through he turned his attention to New Orleans, where he'd visited as a kid and had enough connections to make a go of living there. He moved in with the sister of former classmate and future Beasts creature effects designer, Ray Tintori, and built up his connections with existing New Orleans friends while establishing new ones, and getting a sense of just how possible it would be to make his films there, his way.
"New Orleans is a good place to be poor," Benh explains, noting the open space and ability to just start building things and pulling together scrap materials, especially once he started convincing some of his Court 13 collaborators to join him. Telling him how it felt like there were constantly people flowing in and out of his productions, he explained that Glory At Sea shut down production several times "because we ran out of food," and people would return home until they scraped together enough money to start again. Beasts--thanks to grants from the Sundance Institute, Cinereach, and other groups-- was a more organized process, though still one that involved him skirting the rules of production insurance to keep building the film's sets by hand-- something he says he plans to keep doing as much as possible.
Beasts of the Southern Wild, an engaging and heartbreaking and mythic coming-of-age story that feels soaked in Louisiana swamp water, opens in limited release today, but the press tour continues, and Benh says that until he's settled back home he can't quite begin the process of putting together his next film, though he knows what it will be. So many people have responded strongly to Beasts for the same reason they did Egg years ago-- it looks like nothing else out there, especially in the context of a film festival-- or a group of student filmmakers-- who are trying to stick to a norm. After all my questions I never could get Benh to explain how he manages to see things differently, except that he always has, and it never seemed like an option-- even when he was broke in Brooklyn after graduation, working jobs he didn't really love-- to make films any other way.
Many filmmakers will find success with their first film at Sundance and move on to something totally different and bigger-- see The Amazing Spider-Man's Marc Webb for just one striking example. I asked Benh if he would do anything differently for making his next film, work with more experienced collaborators or fewer people or with more money. He admitted that in the process he might have told me yes-- but now, he won't change a thing. And I know this sounds strange for a guy who just made his first feature, but he's got the kind of track record that makes me believe him.
Staff Writer at CinemaBlend
Your Daily Blend of Entertainment News
Thank you for signing up to CinemaBlend. You will receive a verification email shortly.
There was a problem. Please refresh the page and try again.