The Beginning Of The 3D End: DreamWorks Stock Plummets After Kung Fu Panda 2 Underperforms In 3D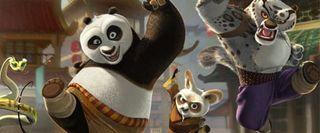 Long have we been harping on Hollywood for forcing the well overplayed 3D gimmick down our throats and it would seem we're now beginning to see the fruits of our labor. Kung Fu Panda 2 was released last weekend and even after its five day opening the film only pulled $68 million. Considering its $150 million budget that's not awful, but the real shocker is that only 45% of that came from 3D ticket sales-- a huge shift from even a year ago, when 60% of Toy Story 3's opening weekend box office came from 3D.
According to the Wrap, between Panda and similarly lackluster 3D numbers for PIrates of the Caribbean: On Stranger Tides, folks on Wall Street are none too psyched about the future of the format and have been dumping stock like it's the plague. Stock for Dreamworks Animation, the studio behind KFP 2, is down almost 10%, with RealD stock plummeting 12%.
These are huge losses putting both companies at two-year lows, and may signal the end of this 3D craze that no studio can seem to move on from. There are some other tent poles on the way this summer that could change this initial assessment--Green Lantern, Cars 2, and Transformers all hit theaters this month-- so we'll be keeping a close eye on the numbers when they start to roll in.
We've always said that 3D has a place in Hollywood. Animated films look generally nice, and films like Avatar that push the envelope of the medium work just fine. But with so many films handling it improperly and the focus and dimness problems caused by the sunglasses you have to wear for the 3D to even work, it may be time to make like the 80s and shelve this technology until these problems get solved.
Your Daily Blend of Entertainment News
Thank you for signing up to CinemaBlend. You will receive a verification email shortly.
There was a problem. Please refresh the page and try again.