Ben Affleck And Matt Damon Resurrect Sleeper For DC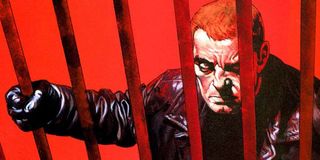 Despite all the flack the internet has been dishing out, Ben Affleck is doubling down with DC Entertainment and Warner Bros. Not only will he star as Batman in the Man of Steel sequel Batman vs. Superman, he also will be producing an adaptation of the DC property Sleeper alongside longtime friend and collaborator Matt Damon, and Alice in Wonderland producer Jennifer Todd. Variety reports DC has hired The Shield's creator Shawn Ryan and TV writer David Wiener (The Killing, Last Resort) to translate the comic written by Ed Brubaker with art by Sean Phillips into a compelling thriller.
The 24-issue comic book series Sleeper centers on a sleeper agent named Holden Carver, who works for a CIA subset called TAO that's not exactly on the books or legal. TAO uses people with extraordinary powers to fulfill shady missions that are essentially geared toward world domination. Carver's special skill is that he is able to absorb the pain of others--without feeling it himself--then channel that pain into someone else. Asked to infiltrate a criminal organization, Carver's loyalties are called into question when he falls for a femme fatale called Miss Misery.
Funny co-incidence, the Elliot Smith song "Miss Misery" was a part of the soundtrack for Good Will Hunting, which was of course the movie that launched its screenwriters and stars, Affleck and Damon.
DC has been trying to get a Sleeper movie made for years now. Back in 2008 Sam Raimi was set to produce. Brad Ingelsby, who went on to co-write Out of the Furnace with Scott Cooper, was lined up to script, and Tom Cruise was attached to star. But this incarnation of the film never shook out, even though Cruise was reportedly pushing to have it made. According to an interview Brubaker did with Comic Book Resources this was far from the first time a Sleeper movie fell apart, revealing "This is the fifth time, I think, that I've heard of serious action on Sleeper at this point."
Basically, Sleeper sounds a lot like Neil Gaiman's Sandman in this respect. Both comics have had multiple attempts at adaptation that haven't panned out, and reportedly both are back in the mix because of filmmakers will serious pull. Affleck and Damon picked up Sleeper through their first look deal with Warner Bros, but no director or talent is attached at this time. It's unsaid if either is eying a role in the film beyond producer. But as Affleck has shown a sharp skill for crafting crime thrillers, it seems he'd be a great pick to helm this neo-noir. And with Cruise attached to a prior version, we assume Damon and Affleck will look to bring in some A-lister for the lead. The question is if not them, then who?
Staff writer at CinemaBlend.
Your Daily Blend of Entertainment News
Thank you for signing up to CinemaBlend. You will receive a verification email shortly.
There was a problem. Please refresh the page and try again.