Benedict Cumberbatch Rumored To Be Next Bond Villain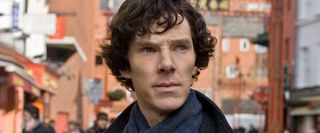 Playing the prickly protagonist on BBC's acclaimed mystery series Sherlock, Benedict Cumberbatch has essentially proven he can carry a movie six times over, as each episode is a self-contained and incredibly taut thriller that clocks in around the 90 minute mark. For his incredible and complex portrayal of the modern Holmes, he's been earning critical praise and scoring parts in hotly anticipated feature films. But if rumors out of the United Kingdom prove true, his next role could make him legendary.
The Daily Express reports that Cumberbatch is nearly set to be the next villain to tangle with James Bond for a 2014 entry to the long-running franchise. Should this prove true, he'd join the ranks of Gert Fröbe, Telly Savalas, Christopher Lee, Mads Mikkelsen, and Javier Bardem. While not all of these actors are household names, their portrayals as Bond's baddies have a renewed relevance every time another 007 adventure rolls into theaters, giving their performances a timelessness. The paper insists their source not only claims, "Benedict is considered perfect Bond villain material," but also:
While it's awesome to imagine Cumberbatch and his Sherlock sneer facing off against Daniel Craig's Bond, this report should be taken with a hefty helping of salt. For one, The Express is a tabloid, and secondly they don't even give the oblique promise that their source has any ties to this supposed production. Given that Bond's producers always insist on keeping mum about the next film until the current one has been released, it's highly unlikely they've begun the casting process for Bond 24-- and even less likely they've gotten a commitment from Cumberbatch. With Skyfall not due for release until November 9, we're chalking this up to wishful thinking.
In the meantime, fans of the Cumberbatch have plenty to look forward to, as he'll make appearances in The Hobbit: An Unexpected Journey, Star Trek Into Darkness, and August: Osage County. But if you can't wait for your next dose of Cumberbatch, then check out Sherlock on Netflix Instant, where seasons 1 and 2 are now streaming.
Your Daily Blend of Entertainment News
Staff writer at CinemaBlend.