The Best Boston Movies Of All Time, Ranked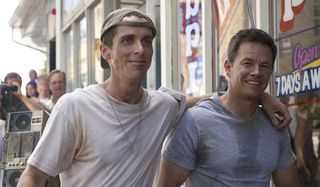 In the movie world, locations like Los Angeles, New York, London and Paris are far and away the most commonly seen settings, but Boston has proven time and time again to be a compelling and fascinating backdrop for movies of all genres. It's not nearly as large the cities mentioned above, but what it lacks in area it more than makes up with strong accents, obsessive sports fans, and historic locations. Many filmmakers have taken full advantage of this in the past, and made some brilliant features as a result. Today we are here to celebrate those titles.
With Black Mass arriving in theaters this weekend, and telling the story of Boston's most notorious criminal, we decided to look back at the history of movies set in the great Massachusetts city and do a straight-up ranking. Which film is number one? Read on to find out!
10. Fever Pitch
Professional sports are very important in Boston culture, and that's especially true where the Red Sox are concerned. It's really because of this that Peter and Bobby Farrelly's Fever Pitch makes its way on to this list, as it also a film that happens to partially capture one of the biggest moments in New England history: the Red Sox winning the World Series and breaking an 86-year losing streak. The movie also happens to be a cute little romantic comedy with a well-paired Jimmy Fallon and Drew Barrymore, so it does have the number 10 spot on lockdown.
9. Ted
Is Seth MacFarlane's Ted a stupid movie? Surely. It's titular character is a curse word-loving anthropomorphic teddy bear who spends days smoking weed on the couch and spends nights with prostitutes. But it's also pretty damn funny, and gets everything it possibly can out of its simple premise. Plus, Mark Wahlberg seems to be at his best when he's representing his home town – which also goes a long way to explain why this is only the first title on his resume that you'll wind up finding in this list.
8. Gone Baby Gone
Author Dennis Lehane has made a career out of writing books set in the dark corners in and around Boston, and that career has made him rather successful on the big screen too. The movie that started that trend was Ben Affleck's Gone Baby Gone - and it's so good that it's entirely understandable why Hollywood fell in love with Lehane's work. This film is particularly known for completely turning Ben Affleck's career around, but it's not a story that succeeds because of a low bar. It's a deep and gritty neo-noir mystery, and makes tremendous use of its Boston setting.
7. Mystic River
Say what you will about Clint Eastwood's mixed bag of a directing career since the turn of the century, but 2003's Mystic River will easily go down as one of the greatest works of his career – standing tall next to The Outlaw Josey Wales, Unforgiven and others. Nobody should be surprised that a film featuring Sean Penn, Tim Robbins, Kevin Bacon, Laurence Fishburne, Marcia Gay Harden and Laura Linney is smothered in brilliant performances, but the film overall is another fantastic Dennis Lehane adaptation and absolutely emotionally shredding at parts.
6. The Thomas Crown Affair
The John McTiernan-directed remake of The Thomas Crown Affair moved the story's action to New York and the Metropolitan Museum of Art, but that simply leaves the door wide open for Norman Jewison's original version to claim its place as one of the greatest Boston movies ever made. As far as Steve McQueen movies go, this one is top tier, and it's the best kind of twisty-turny heist film and features an equally entertaining turn from Faye Dunaway. With scenes in Boston Common, South Station, Copp's Hill Cemetery and more, it also makes for a nice tour around the city by itself.
5. The Town
Ben Affleck doesn't have an incredibly long list of credits as a director, but the guy succeeded in making two of the greatest Boston-set films of all time within the span of three years. While Gone Baby Gone introduced audience's to Affleck's surprising depth as a filmmaker, The Town proved that he is the real deal. As far as crime stories go, they don't get much tighter than this one, and it delivers one of the most explosive cops vs. robbers set pieces that we've seen since Michael Mann's Heat.
4. The Fighter
All of the movies on this list feature Boston in prominent and unmistakable fashion, but arguably none of them bleed it quite like David O. Russell's The Fighter. If the incalculable number of dropped "Rs" aren't enough for you, certainly "the sisters" push it over the line. The film also happens to stand as one of the greatest boxing movies of all time, with both Christian Bale and Melissa Leo putting on mesmerizing performances that we will never forget. Plus, again, great Mark Wahlberg!
3. The Verdict
Few stars – if any – in Hollywood history have been as magnetic and watchable as the great Paul Newman, and while there are really many films that make the case for this argument, Sidney Lumet's The Verdict happens to be the best one set in Boston (and consequently one of the best Boston movies ever made). This is really one of the modern classic courtroom drama, and it comes from David Mamet's genius storytelling, and Newman's brilliant character work as alcoholic, down-and-out lawyer Frank Galvin.
2. Good Will Hunting
In case the picture isn't clear yet, Ben Affleck is easily one of the great names in Boston-based filmmaking, and while he didn't actually direct Good Will Hunting, we once again find his DNA on one of the greatest Beantown movies ever. The Gus Van Sant film has become a staple in pop culture (the line "How do you like dem apples?" will never die), and repeat viewings reveal that it consistently has the same kind of deep emotional impact that it did on first viewing. It's a bright-shining dramatic gem.
1. The Departed
Martin Scorsese will forever be known for his many beautiful and intense portrayals of New York City, so some might see it as a bit unfair that he's the guy behind the greatest Boston-set movie ever made. And yet the crown must be given, as The Departed is magnificent from beginning to end – filled with stunning performances, intense drama, and surprising action. The cherry on top is its ability to capture everything about the city – from the slums in the South End, to the beautiful homes on Beacon Hill, to even the MBTA. It's simply the perfect Boston film.
Your Daily Blend of Entertainment News
Assistant Managing Editor
NJ native who calls LA home and lives in a Dreamatorium. A decade-plus CinemaBlend veteran who is endlessly enthusiastic about the career he's dreamt of since seventh grade.